23 Millennial Women On How They Find Money To Donate To Causes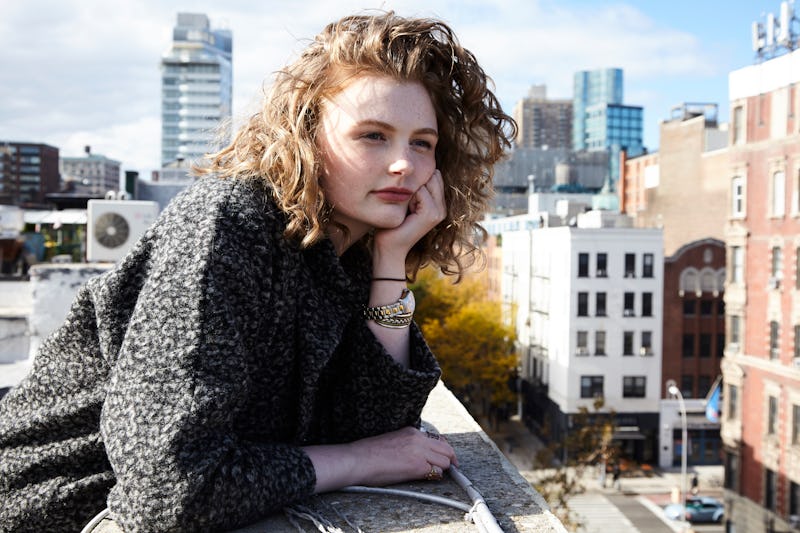 Hannah Burton/Bustle
Money is a feminist issue — and yet, women are still reluctant to talk about it. According to a recent Bustle survey of more than 1,000 Millennial women, more than 50 percent of people said they never discuss personal finances with friends, even though 28 percent reported feeling stressed out about money every single day. Bustle's Get Money series gets real about what Millennial women are doing with their money, and why — because managing your finances should feel empowering, not intimidating.
Believe it or not, even if you're living paycheck-to-paycheck, there are ways to find money to donate to a cause. All it takes is a little planning and budgeting, of course. "Finding ways to donate to a cause that is important to you can simply be replacing spending money on a want and putting it toward a worthy cause," Danielle YB Vason, Founder, She Makes Cents, tells Bustle. "When I was saving money for my wedding, I was compelled to donate to the Juvenile Diabetes Research Foundation (JDRF) at the Atlanta Gala. Money was tight, but my then-fiancé and I decided to donate the money we would have spent on one super fabulous (aka ridiculously expensive) centerpiece. We put the money toward a more purposeful cause. If there is a cause that you want to support, add it to your budget and save a small amount from every check specifically for that cause. Every little bit helps!"
I know, you may be thinking — "But I need to eat! How can I donate to the Humane Society, too"?! Like Vason said, there are ways to make it happen, and some people may set aside money for charity causes in different ways than others. I asked some Millennial females how they find money to donate to a cause and found that it is possible.
"From someone who works in the nonprofit world and thinks they can't afford to give on a regular basis, I say that's false!! It's so cliché, but really any donation amount can make an impact — even if it's only $5 or $10. Personally, I try to donate to a cause at least once a year — specifically to organizations that focus on human and social services (i.e. hunger, homelessness, etc.), so my giving is very random. I have the mentality that I am afforded the opportunity to do many things, and I want to help people get those same opportunities, as well. With the political climate being so hot and heavy, there a few more causes that I am researching and, eventually, I want to start giving on a regular basis."
"I became inspired to help kids with cancer after a summer internship at a wish-granting organization in college. Being a college student and having very little money to set aside to donate, I created a company, Headbands of Hope, that could continuously help the cause that was important to me. Now I've donated over $150,000 worth of funds and products to childhood cancer through my company. Even if the money isn't there, there's always ways you can help out by volunteering your time and talents, or creating a new policy or organization to create continuous change. But there are also other ways to set aside small funds that can make a big difference. One of my favorite organizations is called The Monday Life. You sign up to donate $1 every Monday to help hospitalized children. Although $1 doesn't seem like much, it adds up over time and is manageable for a wider range of people."
"One area in which I really want to focus improving is my commitment to causes. One of my goals this year is to identify a cause I'm most passionate about (and research to make sure the donations are well spent), and commit to contributing at least $30 a paycheck toward that cause. Even though I have a lot to build up in terms of savings (e.g., emergency fund, saving for my wedding, etc.), I know that it's worth giving up an extra brunch or dinner out with friends if it means I'm supporting an important cause. Most recently, I've been donating what I can to Bernie Sanders' 'Our Revolution.' I started donating during his election campaign, but I still try to contribute now. Many might not agree with my political beliefs,but I'm sure we could all agree that spending money to help drive change in our society is worth it."
"Right now, I make one $100 annual contribution to my alma mater's Hillel — they gave me a lot of opportunities in college that really helped me post-grad, and they do a lot of great work in my college's community, so I like to give to them. I do not make any other donations annually/monthly, but with the world's climate right now, I'm considering it. I plan to start small, and I want to make $5 recurring donations to four different charities. My suggestions would be to give to causes that you care about, but always read the fine print — so you know exactly where the money is going and how it's being spent (you can use websites like Charity Navigator). I truly believe that every dollar counts, so give what you can, and if you can push to give more, go for it."
"My husband and I donate to several causes and places, including churches and the Special Olympics. By making donating a priority, you can make a big impact regardless of the monetary amount. Set up a special savings account that automatically pulls in $10-15 a month, and before you know it, you can be making monthly donations on a regular basis. Not only does this help your local community, but you can receive a nice tax break from them, too."
"I immediately take the money and put it to the side first. I donate to local organizations (random) and the church (set aside monthly). If it's truly something that you are passionate about, you will find the money to set aside to make things happen. Sacrificing a night out with friends 2-3 times a month in order to give back is not only rewarding, but beneficial for your budget."
"I do not regularly give to a cause, but try to support local community efforts when I can. I think GoFundMe pages have changed the way Millennials give by making them relatable and right in front of us on social media. When you see someone you know in a time of need, it's hard to scroll past the link. To set aside money for giving, I think it's easiest to move it out of my spending account as soon as my paycheck is deposited so I don't miss it. Then I can use that money on causes I care about and not feel like my bank account is taking a hit."
"I volunteer my time more than I donate, but when I do the latter, I tend to donate to animal welfare and mental health-related causes. I donate randomly, but usually it's triggered by a fundraising effort, a sad commercial, etc. I'm a big fan of automatic payments, so if there's a cause someone cares about, I'd recommend finding a registered charity that can issue tax receipts and setting up an automatic donation from each paycheck. I hear all the time that charities prefer a regular flow of donations rather than big sums donated seasonally. When you're picking a charity to donate to, please check that the money you're donating is actually going to the cause, not to the administration. Not all charities are equal."
"Donating on a budget can definitely be hard, but when I donate, I donate in small intervals. I may not be able to donate $100 at a time, but one month I can donate $10, and another month $20 — it all depends on what's happening that month. But if there's a cause you feel strong enough about, it's an easy choice to skip Starbucks and, instead, put that money towards a nonprofit. You can always find things you can give up, even for a month, if you're looking to donate."
"My advice for people who want to start saving or donating is to come up with a goal first. Maybe you want to save $50 per month to start. Set your account to do a monthly automatic transfer and pretend that account doesn't exist. Also, come up with what you'd otherwise spend $50 on that month and keep asking yourself if it's worth it BEFORE you do it. It's not as much fun in the short-term, but every two months, look at your savings account and have a bedroom dance party as your funds grow. My husband and I donate a few hundred dollars a year to national Planned Parenthood, as well as local PP in the states with the most insane abortion restrictions. We donate to the human rights campaign and we also have a few museum memberships — a great and fun way to support the arts."
"I contribute to my church, by setting it up like a bill being paid through my bank. I find that if I trick myself into seeing it as another installment payment going out, I will be more apt to keeping up the contribution."
"As a young entrepreneur, I have found the best way to give to others and to the community at large is by investing my time in causes that matter to me professionally, and to society as a whole. Time can be just as valuable, if not more so, than money itself. The best part is, what you spend on others comes back to you in the most surprising of ways, especially when you spend that time with nonprofits highly connected to your industry. I donate the largest amount of my time to the Miami Beach Chamber of Commerce, which is a nonprofit set out to better the business environment."
"I find ways to donate to church as often as I can. The best way that I make it a possibility is by sacrificing — for lack of a better term — mini-luxuries. I am often invited to go out to eat with friends, and those meals can add up; so what I do is opt out of eating out for, say, a month, or even other things like buying any new clothing, accessories, makeup, etc., and put that money toward the church instead. Money comes and goes, but the impact that those donations can have are far-reaching. I think that we often make excuses as to why we can't donate. But, if we take a step back and look at the bigger picture, we can see that we're putting a lot of money toward a lot of want-based things, versus need-based ones, and therein lies the room for donation possibilities."
"I donate randomly to causes that touch me personally or ones where I feel that my donation will truly make a difference. I've donated to animal shelters, GoFundMe campaigns for certain tragedies I've come across (sometimes people I don't know personally, but somehow I find them on Facebook and just want to help). I don't currently budget into my spending, but when I find a cause that needs help, I try to give what I can. My advice is to do just that — give what you can. Don't pressure yourself to save a lump sum if you cannot afford it. If you are passionate, volunteer your time, which can often be just as important. If there is a cause that's very important to you and you'd like to help financially, budget it into your overall spending every month so it doesn't catch you off-guard.​"
"I set aside a minimum of 10 percent of my paycheck to give to church. If there is a special charity event, I may give $25-$50. My advice is to decide upfront as soon as you get paid and build it into your budget."
"I donate on a random basis, but try to do it as regularly as I can. The last donation I made was a few days ago to a synagogue. Before that, my fiancé and I donated a few backpacks full of school supplies for children in need. I don't actively look for causes, I just randomly come across them, from emails, Facebook, etc. I always make sure to Google the organization before making a donation, though! The company I work for sometimes organizes funds for specific causes, so I'm happy to participate in those, as well. I like to save coins for charity, too — we often don't realize how much those add up."
"If you're passionate about a program or organization and want to be able to donate a large sum of money, put aside $10, $15, $20 a month and save up for a year. Last year, I saved $200 and evenly divided it among four charities in the Washington, D.C. area that I admire. While I could've used that money to pay down my student loan debt, it's important to donate to charities that provide support and life-changing services each and every day. Plus, I try to donate $10-$20 here and there to various charities at least once a month, whether it's a domestic violence awareness organization, animal shelter, or homeless shelter. While $10-$20 may not seem like a lot, it's important to contribute to charities you respect and are passionate about.
"When I donate money to causes, I typically keep my donations rounded to nice numbers, like $20, $50, $100, or $150, and usually make my donations on an annual basis. I donate to my alma mater, public media, and women's health organizations. I'd say that if a cause is really important to you, just consider your donation to be another line item on your budget that is non-negotiable. Having flexibility with charitable giving, in my experience, just gives me an excuse to not do it or put it off."
Although I'm still in my 20s, I'm already financially supporting an aging parent, and so that's where most of my donation money is going. I contribute several hundred dollars per month to keep my mother afloat. If you care about donating to a specific cause, my advice is to automate it. Have your paycheck direct deposited into your account, and then distributed partially to your savings account. At many banks, you can segment your savings account into different categories, and you can make your charitable giving fund one of those segments. When it starts to fill up, you can donate to the cause you want."
"I am a big animal lover, so donating randomly at the check-out each time, whether I am at the vet or PetSmart, is a must. For people on a tight budget like myself, in the grand scheme of things, is donating the extra $1-5 really going to affect you? Probably not, so opt in to donate a few extra dollars at check-out. Or, if you want to make a bigger impact, save a smaller amount each week just for that cause over a longer period of time. If that means you have to make coffee at home before work, then do it. I am fortunate that my company has a sister company, WECSG, that works with nonprofits. It has been a very rewarding experience and presented more opportunities to donate or get involved in the community. Donating your time to a cause is also a great alternative if donating money is not an option."
"I currently donate $15 a month to Planned Parenthood and other causes (ACLU, American Cancer Society) more sporadically. Just like savings, I do best when the money is directly taken out of my paycheck so I'm not even seeing it. As far as I'm concerned, I won't notice the $15 a month less in my paychecks, and if I do, I need to stop spending on coffee breaks and other more superfluous things. Another way I like to speak with my dollar is by supporting companies that align with my belief system. That said, I will always grab a box of Girl Scout cookies if I see them for sale anywhere!"
"I have one charity I support for personal reasons – the Multiple Myeloma Research Foundation. I'll run 5ks and fund-raise money or donate on my own. Any other charities I support are through friends and supporting their individual fundraising goals. If there's a charity you'd like to support, but don't have the financial means to do so — donate your time! I'll use my expertise in public relations to support the MMRF, volunteer for events, or just share the cause on my social channels!"
"When it comes to donating money I used to have a tithing account that part of my paycheck would go directly to. I would use that money to donate to church, the MS foundation, and give a few dollars when a cashier would ask if I'd like to donate to the charity they are supporting that month. It was a great way to remember to set money aside, and get used to the habit."
As you can see, donating to causes that are close to your heart is easier than you may have thought. Maggie Germano, Certified Financial Education Instructor and financial coach for women recommends setting a budget for donating. "Identify 2 or 3 organizations that represent issues you care about the most. (You can't donate to everything!) Then pick a number that fits into your budget or feels comfortable to you. This could be either monthly or on a less frequent basis. Remember, you don't need to go broke to support causes that mean a lot to you," she tells Bustle.
Of course, it'll take some budgeting, but like many people above said, once you get into the habit of donating — or have an auto-pay do it for you — it's easier than ever. Plus, remember, every dollar does count.
Check out the "Get Money" stream in the Bustle App for more tips and tricks on how to save and spend your money.