25 Plus-Size Wedding Dresses Under £300 That'll Have You Feeling Like A Queen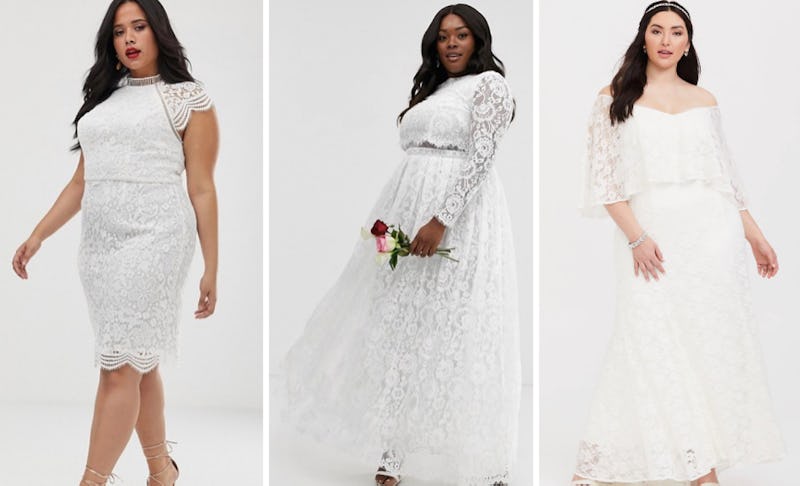 When I was searching through potential plus-size wedding dresses under £300 for my own "big day" three years ago, I was brought to tears on several occasions. Not only were there almost no brick and mortar shops carrying my size (a 24/26) that also sold budget-friendly occasion-wear, but there were extremely limited options online, too. It wasn't the first or last time I felt completely invisible to the fashion industry, but it was particularly upsetting because I was trying to plan one of the most allegedly magical moments of my life. The lack of options for my body, and bodies larger than my own, seemed to suggest plus-size babes were not worthy of fairytale endings.
My partner and I were planning our ceremony quickly, and in the end, I just had to buy something. It wasn't the "dream" dress — not even close. Instead, I settled for a not-totally-hideous turquoise and white number that I found in the back corner of a department store. As a result, I never got to experience "that" feeling: a feeling sparked by an outfit so quintessentially you. Something that makes you feel not only beautiful, but strong and capable and ready for a big adventure with your love by your side.
Three years on, however, there are undoubtedly more options than ever before. Plus-size brides-to-be may still not be able to walk into a vast majority of wedding shops and find something made with them in mind, but the internet is another story entirely. Not only are more and more brands coming up with gorgeous wedding dresses in extended sizes, but many are doing so with tight budgets in mind.
According to Marie Claire, the average cost of a wedding dress in the UK was approximately £1,385 in 2018 (and £1,677 in London), but many of us don't have that kind of money to spend. The gorgeous plus-size wedding dresses below are all under £300 (and some are far less), because having the "perfect" wedding day shouldn't require forking over a month or two worth of rent.