These Halloween Makeup Tutorials Are Actually A Lot Easier Than They Look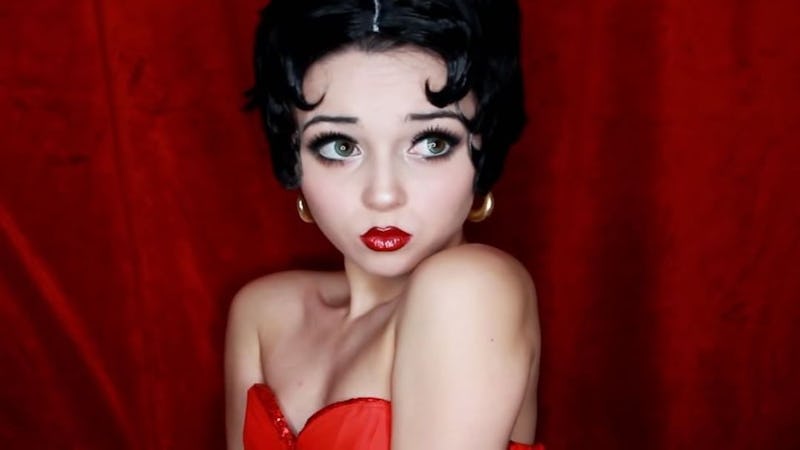 Halloween is just around the corner, and that means it's time to get your life together and figure out what you're going to rock to all those fun parties you're going to. If you're having trouble finding a costume, don't fret: There are plenty of Halloween makeup tutorials that are much easier than they look.
Personally, I adore Halloween: The warm, rusty color palettes, the brisk fall air, not to mention the copious amounts of candy that line the shelves in every store. But my passion never wins out over my procrastination. I perpetually wait till the last minute to decide what, or who, I actually want to be come Oct. 31. Plus, I always wince at the $150 price tag on cheap, synthetic garments at costume shops that will most likely fall apart throughout the night only to remain on the floor of my closet eternally. To save myself money and stress, I generally turn to makeup as my costume.
These talented MUAs have designed easy-to-follow looks that look intricate AF. Plus, you probably already own all the supplies in your makeup wardrobe or your arts and crafts cabinet. So grab a handful of candy corn and sip your pumpkin spice latte because things are about to get spooky up in here.
1. Pennywise From It
Let's get this one out of the way, shall we? The name on everybody's lips is going to be Pennywise this year. Halloween queen Mykie aka Glam and Gore easily breaks down the look for her "zombaes" during this five minute tutorial. If you want to put a little sexy spin on this killer clown (because, for some unknown reason, even demons aren't free from sexualization on Halloween), then you've come to the right tutorial. If you don't want to invest in a terrifying set of teeth, no worries. Like Mykie says, "taking the teeth out also ups the glam factor quite a bit." Same goes for the contacts. The hardest part of this tutorial is the black smoky eye, tbh.
2. Creepy Clown
If you're feeling the clown vibe, but Pennywise is a little too horrific for you, then take some inspo from Emma Cervin. From It to AHS to spooky sightings IRL, these birthday party staples are more creepy than comedic these day. And they're ever-present in our pop culture. Emma's tutorial is straightforward and even gives you a faux costume option. But if the stripped collar is too much for you, then opt for some black lace and let your makeup be the star.
3. Vampire
Just like her title says, Desi Perkins will take you from vampy to vampire in no time flat. Vampires will never go out of ghoulish style and it's one of the easiest makeup looks to create. Apply a smokey eye, a dark lip, a dash of fake blood and you're good to go. If you want the bite marks without having to purchase tattoos, just follow this super easy tutorial below.
You just need cotton balls, lash glue, and the same makeup to create a look to die for.
4. Werewolf
Maybe you don't like immortal undead beings that sparkle (or disintegrate) in the sun. Maybe you prefer furry, half-wolf creatures that howl at the full moon. If werewolves are more your speed, then Chrisspy will show you how it's done. Extra added bonus: you won't need to shave your legs this Halloween season because, you know, character commitment.
5. Scarecrow
Now nothing screams fall more than scarecrows. Lions, tigers, and bears (oh, my) will certainly be terrified of you with these Coraline-inspired button eyes. If the actual buttons feel a little impractical, don't worry. You can always sketch out the eye loom with black and white eye liner for a more wearable version of dope211's creation.
6. Deer
For years, deer makeup has been one of the most requested Halloween looks. Not quite sure why. But it seems that being a doe, a deer, a female deer never goes out of style. If you've got a cute brown top to toss on, then grab some brightening liner, follow Claudia's easy tutorial, and get doe-eyed and bushy tailed.
7. Doll
Disturbing dolls are another Halloween costume staple. With the right black eyeliner and this tutorial from Karman, you can live out your Annabelle dreams.
8. Skull
Chrisspy, the queen of glam on Halloween, also created this iconic sultry skeleton look. If you want to look contoured for days, months, years, or deadly decades, just follow this tutorial. The deceased have never looked this dazzling.
9. Holo-Witch
A last-minute makeup look perfect for all my Holosexuals out there. Watch Nicol Concilio quickly transform Simply Nailogical, aka Cristine, into a Holo-ween dream come true.
10. Cat
What's up? Cat got your tongue? Mesmerize in gold and dazzle with glitter thanks to Melly's tutorial. Just grab a pair of ears from your nearest CVS and easily convince all your friends that you've had this costume planned for months.
11. Catwoman
I don't know about you Miss. Kitty, but I feel so much yummier. No mask? No problem. Makeup will be the perfect accent to that catsuit you have hiding in the back of your closet.
12. 1920's Flapper
If you're feeling a bit anachronistic, then travel back in time with Jordan Hanz and her extremely detailed flapper tutorial. You can even make it gory if you want to push your Gatsby vibes to the limit.
13. Betty Boop
Boop-oop-a-doop! If you're a contouring queen, then chisel your face to cartoon-esque proportions. Transformation authority Jbunzie shows us how it's done.
14. Fortune Teller
If you just love a sensible bordeaux-inspired makeup beat, then Alexis B's Fortune Teller tutorial gives you the perfect excuse to look gorgeous with a little dash of creepy. A little glitter and faux tears never hurt anybody.
15. Egyptian Queen
Take some inspo from the OG beauty guru, Cleopatra, and drench yourself in gold like YouTuber Bri Hall. You'll certainly be walking like an Egyptian this Halloween.
16. Pirate
The best thing about going as a pirate for Halloween: the easily achievable, sloppy eyeliner. Seriously, apply your eyeliner on Old Hallow's Eve, sleep in it, and you're good to go! Or, you can go for a more polished look like Charisma Star.
17. Evil Queen
Mirror, mirror on the wall. Who's the fairest on of all? You are, with a little help from this Picturresque tutorial.
18. Barbie Doll
Haven't you heard? Life in plastic... it's fantastic! And this Kandee Johnson tutorial is super easy to recreate! Just take my word for it.
19. Glamazon
Shantay, YOU stay! If you're a RuPaul's Drag Race fanatic and want to emulate your favorite queen this Halloween, Lucy Garland has a whole series of transformations into former RPDR contestants like Valentina, Kim Chi, Raven, Trixie and more!
20. Audrey Hepburn
If you're hungry for some Breakfast at Tiffany's, then why not go as Audrey Hepburn this Halloween. YouTuber EMAN quickly and easily shows you how.
21. Comic Book Character
If you want a quick and easy way to amp up your every day look, just apply some strategically placed black lines and jump right out of the pages of your favorite comic book. Madeyewlook will show you how.
21. Greyscale
Maybe you're less into characters and more into creepy makeup effects. With this greyscale tutorial by the incomparable Jordan Hanz, you'll be turning heads all day long. It's just highlight and contour using black and white.
22. Scary Veins
Or, embody plague realness with this easy vein tutorial by Shaaanxo.
23. DIY Wounds
If you're a gory girl at heart, then no Halloween is complete without a little fake blood. Create the perfect artificial wound with products you already have in your supply drawer at home. A little Elmer's glue goes a very long way.
24. Spider Eyes
Freak out all your friends with arachnophobia and take spider lashes to a whole new level. Beautybyjosiek will show you how it's done.
25. Medusa
With a little fishnet stocking and some green eyeshadow, you can transfer into Medusa, just like Nicol Concilio!
So if you've procrastinated once again, my friends! Not to worry. Your makeup will always come to the rescue.
Check out the entire 'What's Up, Boo?' series and other videos on Facebook and the Bustle app across Apple TV, Roku, and Amazon Fire TV.