31 Movies To Watch With Your Mom On Mother's Day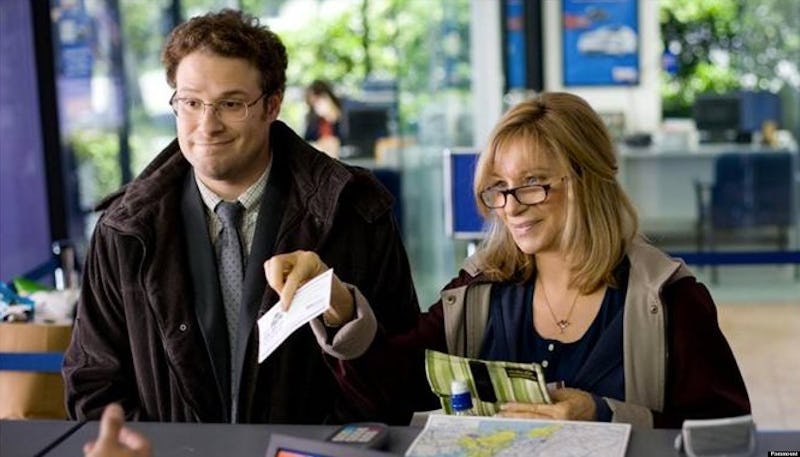 Paramount Pictures
You can always get creative on Mother's Day by having a movie day or night with your mom. Mother's Day always gets me thinking about everything our mothers have done for us, and for me, one of the best ways to celebrate the holiday is by watching films with my mom. Spending time with her while watching movies really gives us the chance to not only enjoy each other's company, but have heart-to-heart discussions about topics we might've otherwise avoided. So if you're lucky enough to spend Mother's Day with your mom, take some time out to plan some sweet couch time with her by celebrating the holiday through film.
Maybe one of your mom's favorite movies is on this list, or maybe one of yours is (or maybe you guys have the exact same taste). Whatever the answer, chances are you'll find something to enjoy together from the films listed below. Pop some popcorn, get some flowers, and settle in on the couch while you watch some of the great movies below this Mother's Day.
1. The Sound Of Music
Grab your mom's hand and twirl a little with this movie. The Sound of Music, the heartwarming musical that made Julie Andrews a household sensation, is a crowd-pleaser for everyone.
Stream The Sound of Music here.
2. Sister Act
When I was a child, Sister Act was a household classic. Whoopi Goldberg plays a Vegas showgirl-turned-nun who becomes the director of a California convent church choir, and there's so much to love.
3. Steel Magnolias
One of my favorite movies ever. Grab a box of tissues and hold your mother tight. Steel Magnolias follows beauty shop owner Truvy (Dolly Parton) and her work-in-progress assistant Annelle (Daryl Hannah), who help keep Clairee (Olympia Dukakis), town grouch Ouiser (Shirley MacLaine), M'Lynn (Sally Field) and her daughter Shelby (Julia Roberts) beautiful while they get each other through life's toughest moments. When Shelby gets sick, all of the friends get together to help M'Lynn as she faces her own nightmare.
4. The Joy Luck Club
Joy Luck Club is based on Amy Tan's best-selling novel of the same name, and it tells the story of four women who were born in China and made their way to America. The narrator is June (Ming-Na Wen), who heads to China after her mother's death. As she and her friends look back at their mothers' lives, the difference between their worlds becomes more and more clear.
Stream The Joy Luck Club here.
5. Soul Food
"Mama, Mama you know I love you." This movie will have you singing the lyrics of the popular song "A Song For Mama" by Boyz II Men with your mom. Soul Food follows the Josephs, a large family living in Chicago who gathers every Sunday for Big Mama Joe's (Irma P. Hall) dinners. When Big Mama gets sick, a feud between the sisters (Vivica A. Fox, Nia Long and Vanessa Williams) begins to unravel the family. However, the glue that holds them together is Mama's favorite grandson Ahmad (Brandon Hammond), who has a plan to bring the family back together.
6. Stepmom
Grab a box of tissues and brace yourself, because this one is a tear jerker. Stepmom stars Susan Sarandon as a dying mom of two who needs to come to terms with the fact that her ex-husband's new wife (Julia Roberts) will be in her children's lives long after she's gone.
7. My Big Fat Greek Wedding
​​​​​​Anyone with a close-knit family knee deep into cultural tradition can relate to this wedding tale. Everything about My Big Fat Greek Wedding will have you shaking your head and laughing.
Stream My Big Fat Greek Wedding here.
8. Akeelah And The Bee
Sometimes your mom's dreams for your life and your dreams don't completely match. Akeelah (Keke Palmer) and her mom (Angela Bassett) explore that issue when the young girl discovers her talent for spelling and makes her way to the Scripps National Spelling Bee. Soon enough, her mom comes around and helps prepare her daughter for the spelling be with the entire community.
Stream Akeelah And The Bee here.
9. Brave
There is nothing like watching an animated film to bring back your childhood memories with your mom. Brave features a young Scottish princess who's trying to break classic feminine traditions, much to the dismay of her mother. When a spell turns her mom into a bear, the two learn that family is the most important thing.
10. Anywhere But Here
Polar opposites Adele (Susan Sarandon) and Ann August (Natalie Portman) learn to support one another the hard way as mother and daughter. Ann lives for everything to be in an orderly fashion, while her eccentric mother Adele likes to live life on the edge.
Stream Anywhere But Here here.
11. Bend It Like Beckham
Jess Bjamra (Parminder Nagra) is an incredible soccer player with a shot at the big leagues, but is also the daughter of a strict Indian couple (Anupam Kher, Shaheen Khan) in London. When Jess is playing for fun one day, her impressive skills are seen by Jules Paxton (Keira Knightley), who then convinces Jess to play for her semi-pro team. If she could just balance her love of the sport with her devotion to her close-knit conservative family, she could achieve the perfect personal harmony.
Stream Bend It Like Beckham here.
12. Real Women Have Curves
Real Women Have Curves follows young Ana Garcia (America Ferrara), who's learning to love herself and her body. This movie is an a reminder for both daughters and mothers to love the skin they're in.
Stream Real Women Have Curves here.
13. Mamma Mia
This is the movie-musical adaptation of the Broadway hit that features Meryl Streep singing alongside Pierce Brosnan, Amanda Seyfried, Colin Firth, and Stellan Skarsgård. Full of wacky love and music, this movie will bring your inner Broadway singer out.
14. The Guilt Trip
Barbara Streisand plays an overbearing mother who goes on a road-trip with her son Andy (Seth Rogen). The trip soon changes their mother-son dynamic forever as Andy tries to sell his latest invention. It's a sweet reminder of how supportive — if frustrating — mothers can be.
15. Freaky Friday
Lindsay Lohan and Jamie Lee Curtis star in this ultimate switcheroo, where the two find out what it's like to live in each other's shoes. Talk about taking empathy for one another to a whole new level.
16. The Single Moms Club
The Single Moms Club is what everyone should watch to understand the sacrifice and hard work single mothers go through when raising children alone. In this film, five single moms give each other support, reclaim their freedom, and try to find love again.
Stream The Single Moms Club here.
17. Forrest Gump
Forrest Gump was the first movie that made me understand as a child that everyone experiences personal setbacks, but we can all persevere and move forward. Forrest (Tom Hanks) is sweet-natured man who will go down as one of the best characters in theatrical history all because mama told him, "Life is like a box of chocolates, you never know what you're gonna get".
18. Because I Said So
Daphne Wilder (Diane Keaton) is the proud mother of three women: Milly (Mandy Moore), Maggie (Lauren Graham), and Mae (Piper Perabo), and her love for her children literally has no limits. Daphne takes matters into her own hands to stop Milly from choosing the wrong man, by placing an online dating ad for her daughter.
Stream Because I Said So here.
19. Mrs. Doubtfire
Robin Williams plays the funniest nanny ever to hit movie screens. Daniel Hillard (Williams) is a husband separated from his wife who disguises himself as a female nanny to spend more time with his kids. This classic film is perfect to watch when you want to reminisce about the hilarious talent of Williams and get a piece of heartwarming fun.
20. The Blind Side
Sandra Bullock plays Leigh Anne Tuohy, the real life adoptive mother of star football player Michael Oher, in this film based on the their inspiring true story.
21. Divine Secrets Of The Ya-Ya Sisterhood
Divine Secrets of The Ya-Ya Sisterhood follows a mother and daughter duo played by Sandra Bullock and Caitlin Wachs as they learn to understand each other after years of resentment with the help of friends and members of the "Ya-Ya Sisterhood." The movie will absolutely help you reconnect with your mom.
Stream Divine Secrets of The Ya Ya Sisterhood here.
22. Cheaper By The Dozen
Cheaper by the Dozen is a comedy about a high school football coach who is left to manage a chaotic household while his wife goes on a book tour. It's hilarious, but also shows you how much parents have to juggle.
Stream Cheaper By The Dozen here.
23. Look Who's Talking
When Mollie Jensen (Kirstie Alley) gets pregnant by a married man, she spends most of her son Mikey's (voiced by Bruce Willis) toddler years trying to find him the perfect father. But that guy might just have been around all along in the form of the quirky cab driver (John Travolta).
24. Dirty Dancing
Yes, the movie is a little sexy, but it's a conversation starter of love anyone can have with their mom. If you somehow aren't familiar, Dirty Dancing follows Baby (Jennifer Grey) as she falls in love with her summer resort's dance instructor, Johnny (Patrick Swayze).
25. Dreamgirls
Dreamgirls will bring out the superstar in both you and your mom. Deena (Beyoncé Knowles), Effie (Jennifer Hudson), and Lorrell (Anika Noni Rose) form a music trio called the Dreamettes. The girls experience up and downs in the music industry as their ambitious manager Curtis Taylor Jr. (Jamie Foxx) causes a rift between the singers and a former headlining national star (Eddie Murphy).
26. Terms Of Endearment
The story focuses on the tempestuous relationship between Aurora Greenway (Shirley MacLaine) and her rebellious daughter Emma (Debra Winger). Against her mother's wishes, Emma marries a college professor with limited potential and makes the age "sensitive" Aurora a grandmother three times.
Stream Terms Of Endearment here.
27. How To Make An American Quilt
During a summer-long visit with her grandmother and great-aunt, soon-to-be-wed graduate student Finn Dodd (Winona Ryder) embarks on a journey of self-discovery through guidance by the women in a local quilting circle. This movie will make you appreciated the wisdom from women who've lived life fully.
Stream How To Make An American Quilt here.
28. The Color Purple
The Alice Walker classic The Color Purple spans over 40 years in the life of Celie (Whoopi Goldberg), a woman living in the South who survives incredible abuse and bigotry from her husband "Mr." (Danny Glover). His abuse and abandonment leaves Celie to find companionship anywhere she can, all while holding on to her dream of one day being reunited with her sister in Africa.
29. Meet The Fockers
Brace yourself for awkward, funny family intermingling. Male nurse Greg Focker (Ben Stiller) and his fiance Pamela Byrnes (Teri Polo) go on a family trip with the intent of having Pam's parents (Robert De Niro and Blythe Danner) meet Greg's parents, the Fockers (Barbra Streisand and Dustin Hoffman). The hyper-relaxed Fockers and the tightly-wound Byrneses are mismatched from the beginning, and no matter how hard Greg and Pam try, their parents can't get along.
30. It's Complicated
One reason to watch this movie with your mom: everyone loves Meryl Streep. This romantic comedy finds a divorced couple, Streep and Alec Baldwin, in a conundrum after a passionate affair with each other, although both of them have other love interests.
31. The Secret Life Of Bees
Based on the best-selling novel by Sue Monk Kidd, the film follows 14-year-old Lily Owens (Dakota Fanning) as she runs away from her abusive father with her caregiver (Jennifer Hudson). The pair are taken in by the Boatwright sisters (Queen Latifah, Alicia Keys, Sophie Okonedo), who are later revealed to be very much connected to Lily's past.
Stream The Secret Life Of Bees here.
Whatever your taste in movies, chances are you'll find something on this list to enjoy on a Mother's Day movie night with mom.