These 4 Zodiac Signs Will Be Spared From Scorpio Season's Intensity This Year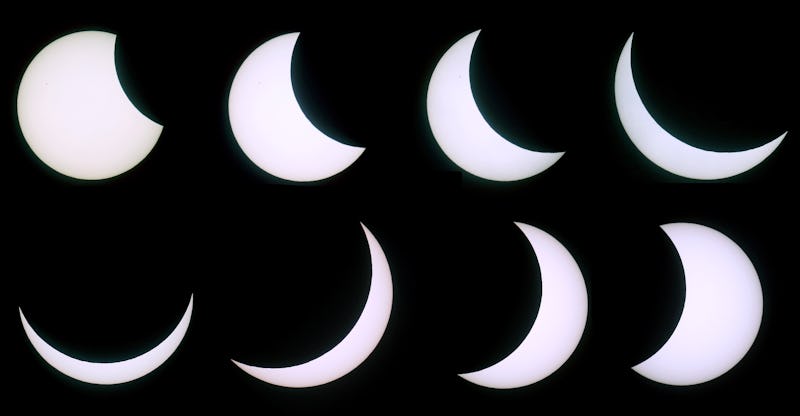 Peter Macdiarmid/Getty Images News/Getty Images
Embracing the darkness can be really fun. That's part of why so many people love Halloween and indulging in all things spooky for the entire month of October, right? But it's not just fun — embracing the shadowy side of life rather than running from or suppressing it can also be a radical act of liberation. Because truly, there's no escaping it — with light comes darkness, and there's a lesson in everything. It's just part of the great duality of existence. This is what Scorpio season 2018 is all about! And from Oct. 23 to Nov. 22, the sun will be traveling through the sign of Scorpio, which rules death, sex, rebirth, and transformations of all kinds. What's interesting about Scorpio is that a lot of people mistake it for a fire sign due to its passion and intensity, but it's actually a fixed water sign. Yep, a Scorpio's intensity is rooted not in hot fiery flames, but rather in deep, dark, watery pools of emotion and feeling — so it's going to behoove all zodiac signs to surrender to the inevitable flow.
A scorpion's stinger is lethal AF, but you know what? Their capacity for loyalty, devotion, and love runs equally as deep. As my favorite musician (and resident Scorpio) Cass McCombs once sang, "Pain and love are the same thing," and such is certainly the case in Scorpio land (and really, if you think about it, in life in general). "The Scorpion likes to get below the surface to examine issues of power, fear, sex, and desire," explained Tarot.com. Think of them as the zodiac's version of House Slytherin. Scorpio isn't afraid to get its claws dirty and wade into the depths of the human experience in order to see the truth for itself.
And not only will Scorpio be under its annual solar spotlight for the coming weeks, Scorpio territory will be getting a lot of planetary action, as well — both Venus and Mercury will be in Scorpio through approximately the end of October, and Jupiter will be there through Nov. 8, making this a busy and bustling Scorpio season indeed. "[T]his year, the season of sex, death, and transformation is sure to bring major changes for all of us," explained Astrology.com. Now is the time to ask the shadows what they have to teach us rather than trying to run from them. Bustle spoke with astrologer Lisa Stardust, who shares, "Scorpio Season is a transformative time, when change is possible — as long as we commit to growth and shed the past. Evolution may be hard, but essential." You heard her. Surrender! Transform! Embrace all truth at all costs! 'Tis the Scorpio way.
Despite the all-consuming power of the Scorpion, not every sign is actually going to feel its effects so heavily, and Bustle spoke with Stardust about which zodiac signs Scorpio season will affect the least. You may just find yourself floatin' through Scorpio's abyss with a wee-bit less intensity, so read on to find out.
Gemini (May 21 - June 20)
Gemini and Scorpio are, strangely enough, a harmonious pair of signs. Given their symbiotic energy, this season can be a great time for you to channel Scorpio's power to make some posi self-care moves for yourself. "Gemini [is] pushed to make minor changes in their day to day life, such as eating better, exercising more, and even taking more time to connect with coworkers and the local community," explains Stardust to Bustle. Get in touch with your inner truth and do what feels healthy to you, Gemini. The changes you make now have the potential to benefit you for a long time to come.
Virgo (Aug. 23 - Sept. 22)
Scorpio's transformative sexual energy can be intense, and given that Venus, planet of romance, is also currently in Scorpio territory, it might mean your love and sex life is due for some directed energy, Virgo. "Scorpio Season brings out the adventurous side of cautious Virgo, urging them to be more social and take risks," says Stardust. "[T]his even includes going on Tinder, Hinge, and Grinder — to evoke their seasonal flirtatious desires." So yeah, Virgo, re-downoad your dating apps or do whatever you need to do let loose a little bit and open yourself up to ~love~. Plus, Venus retrograde is over in just a couple short weeks, so no stress — any weirdness is bound to work itself out soon enough.
Sagittarius (Nov. 22 - Dec. 21)
Self-care is on the docket for you this season, Sag, so don't pressure yourself to keep up with your usual mile-a-minute pace. "The archer is pushed to take better care of themself during Scorpio Season — getting massages, meditating, and relaxing more," explains Stardust. "Also, sleeping in and luxuriating at home will serve to center Sagittarius, who is often running wildly around town." While your energy is usually boundless, don't be surprised if your body is asking you to take a breather — and indulge in some major relaxation if it does! You'll be back on the scene in no time, but use Scorpio season to go inward, reflect, and pamper yourself a bit.
Pisces (Feb. 19 - March 20)
With the sun and several planets in fellow water sign Scorpio, you may feel called to explore your inner feelings even more deeply than usual, Pisces — and you should use Scorpio season's transformative power to grow into a more optimistic outlook on life. "Committing to a new mindset during Scorpio Season will provoke Pisces to join a book club or organization in which they can evolve and think more — pushing the sea dweller to swim slowly into a more positive headspace," Stardust tells Bustle. Waters may have been a little rough for you lately, but you'll find yourself swimming freely if you stimulate your mind and allow yourself to be open to new things.