People Are Describing Their Favorite Feeling In 5 Words & It'll Make You Smile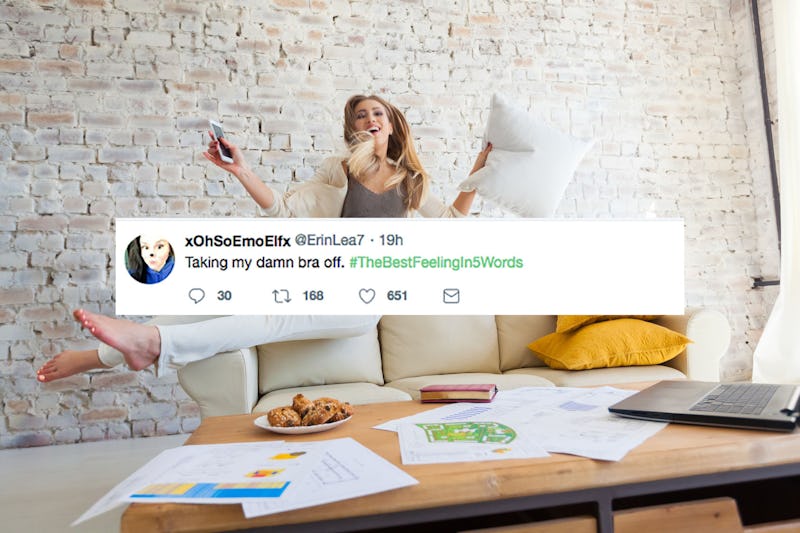 satyrenko/Fotolia
You know those moments where happiness washes over you and it feels like every worry you've ever had doesn't matter? It's a moment in time where, to quote The Perks Of Being A Wallflower, you feel "infinite." Whether big or small these moments give us happiness and relief from the trials of the world. While Twitter may not always be our go-to platform for joy these days, sometimes it's surprising. Such was the case when Twitter users started the hashtag #TheBestFeelingIn5Words, describing moments guaranteed to make you smile.
Ranging from the practical to the beautiful, peoples found a way to describe each moment clearly while limited to just five words. While the hashtag may not have a blatant mental health angle, when reading the tweets, my mind immediately went to those suffering with mental illnesses such as depression. For someone to feels like their world has lost it's light, reading these tweets may provide some reassurance of the amazing moments humans experience every day.
Even for those who are not struggling with a mental illness, reading some of these tweets may remind you to appreciate all the wonderful parts of life you'd otherwise overlook, however small they may seem. In fact, there may be something to recording your happiest moments. A 2012 Chinese study, tracked the effect of keeping a daily gratitude journal, with participants reporting better sleep and less anxiety, Psychology Today reported.
Looking for some inspiration on how to get those good feelings flowing? Here are some of the greatest #TheBestFeelingIn5Words tweets that you're sure to really feel RN.