5 New Ways To Wear Red Makeup For The Holidays, According To A Chanel Makeup Artist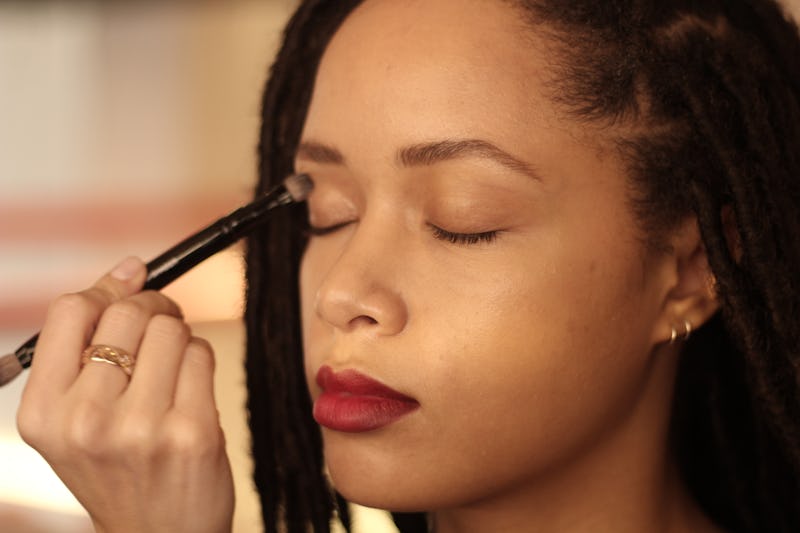 Sara Tan/Bustle
Chances are, you can't even begin to think about the holiday season without thinking of the color red. And if you are a beauty lover, you probably can't think of red without picturing Chanel's signature red pout. Beyond being the hue of her very first lipstick, to founder Gabrielle Chanel, red symbolized passion, courage, and life. And just in time for the holidays, Chanel is celebrating the impactful color with a decadently red pop-up in New York City called Le Rouge.
A day before the pop-up opened to the public, the Bustle beauty team stopped by and peeked at all the extravagance it has to offer. The three-story space is filled with glamorous holiday gifts and Instagrammable moments aplenty — there's a lipstick conveyer belt and a neon-lit fragrance lounge — that we took full advantage of. Anyone who visits the space (which is open until Dec. 23) also has the chance to book a consultation with a Chanel makeup artist, so we tapped one to help us come up with some new ideas for our holiday beauty looks.
But if you're picturing a simple swipe of red lipstick, you're not thinking rouge enough. Cyndle Komarovski, Chanel's U.S. Makeup Artist, showed Bustle just how versatile and fun the color can be when you think beyond your lips.
Here are five fresh and festive ways to wear red during the holidays, as demonstrated on Bustle's beauty editors.
The Reverse, Red Cat-Eye
Komarovski wanted the focus of my look to be my eyes, but knowing that I don't typically wear a ton of eye makeup, she wanted to keep it subtle, while still making a statement.
Using Stylo Yeux Waterproof Long-Lasting Liner in Eros, Komarovski applied the soft, creamy golden red eyeliner onto my lashline, making it thicker towards the outer corner for a wide-eyed, elongated effect. She also applied it onto my water line and smudged it out to create a reverse cat eye.
Next, she applied a soft brown shadow all over my lid and added gold highlighter to the inner corners of my eye.
To complete the look, Komarovski applied a red lipstick with a lip brush, followed by Rouge Coco Gloss in Opulence, a hydrating gold lipgloss, with her fingers.
The Classic Cat-Eye With A Twist
Kara McGrath normally wears glasses, so Komarovski decided to create a look that would emphasize her eyes but wouldn't get lost behind her lenses. Instead of a regular black cat eye, however, Komarovski used Stylo Ombre et Contour in Rouge Noir, an aubergine liner that would bring out the green in McGrath's eyes.
Komarovski applied the liner into the lashline and into the outer corner of her eyes and carefully flicked it upwards to create the wing. She used a tiny blush to soften the liner — a great way to fake a perfect wing, even if your lines don't come out straight from the get go. This particular eyeliner is super blendable, making it easy to create an even cat eye.
Komarovski curled McGrath's lashes and then used Inimitable Intense in Purple, a violet mascara (with specs of gold) to match the cat eye. A pro tip for anyone whose lashes are blonde like McGrath's: Use a small liner brush dipped into the mascara to tightline your upper waterline at the root.
Next, Komarovski applied Ombre Première Longwear Cream Eyeshadow in Ultra Flesh, a rose gold to highlight the inner corners of the eye. And to complete the look, Komarovski applied Rouge Allure Velvet Extrême in Èpitome, Chanel's new matte, opaque formula, to her lips.
The Second-Skin Smoky Eye
When Komarovski looked at Olivia Muenter, she knew exactly what look she wanted to create — something she called "second-skin smoky eye," a sexier, more lived-in version of the popular eye look. Using the red shade from Chanel's Les 4 Ombres in Candeur et Expèrience, Komarovski applied the shadow onto her lashline, blending it out upwards to the rest of the eye.
She then did the same thing with the red shadow along the bottom lashline. Next, she used the neutral shades from the rest of the palette to create a soft, smoky effect.
To finish the eye, Komarovski used Le Volume Rèvolution de CHANEL, an intense, volumizing mascara.
To balance out the look, she decided to keep the lip natural, dabbing on Rouge Coco Gloss in Opulence with her fingers.
The Glossy Doe Eye
If you're looking for a way to spice up your eye look, consider going glossy.
Komarovski first applied Stylo Yeux Waterproof Long-Lasting Liner in Eros, the golden red eyeliner, all over Katie Dupere's lid, concentrating the color at the lashline.
She then wanted to add pop of shimmer to the eyes, so she used Ombre Première Longwear Cream Eyeshadow in Memory, a bronze gold, to the middle of Dupere's lid.
Then, to top it off, Komarovski applied Rouge Coco Gloss Top Coat in Excitation all over her lid with a brush to create a beautiful glossy lid.
The Two-Toned Lipstick Look
You can never go wrong with a classic red lip, which is why Kayla Greaves says it's usually what she opts for on a night out. But Komarovski wanted to give her a fresh new way to rock a red pout, this time using two different red tones for a more contoured lip look.
First, she used a darker liner, Le Crayon Lèvres Precision Lip Definer in Rouge Noir Vamp, on the outer edges of Greaves' lips. Then, she blended Chanel Rouge Allure Velvet Extrême Intense Matte Lip Colour in Extrême all over her lips, bleeding it into the liner.
To set the lip so it would last all day, Komarovski pressed a tissue over Greaves' lips and gently dusted a translucent powder on top.
To complement the bold, red lip, Komarovski applied Ombre Première Longwear Cream Eyeshadow in Terre Brûlèe, a brown, gold pink all over Greaves' lids. Two words — très magnifique.