5 Nonfiction Books To Help You Understand EXACTLY What Consent Means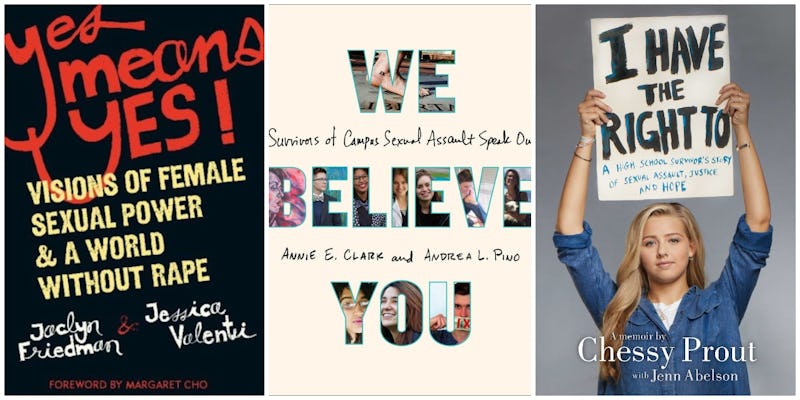 Despite the fact that the subject of sexual harassment and assault has been at the center public discourse for nearly six months in wake of the reinvigorated Me Too movement and Hollywood's Time's Up initiative, many people are still struggling to understand what is at the very core of the issue: consent. In fact, recent studies show that the majority of straight men still don't understand what consent is or how it works, and they aren't alone. Although it should be a cornerstone of every sexual encounter, consent is still a concept people are struggling to wrap their heads around. Luckily, for those people who still confuse sexual interest as explicit permission, there are some powerful nonfiction books that explain the importance of consent.
To be clear, consent is is when someone freely and without any outside pressure agrees to, gives permission for, or says "yes" to a sexual encounter with another person. It is an obvious and unambiguous agreement that is expressed outwardly, and that can be taken back at any time without consequence. Consent cannot be given by someone impaired by drugs or alcohol, nor can it be granted by anyone who feels threatened in an emotional, physical, financial, or reputational way. Consent is not the kind of outfit someone wheres, a previous history of sexual activity, or even one sexual activity leading to the next. It's not body language or appearance, it's not silence or incapacitation, and its not even a given in established relationships like marriage.
It may be at the heart of every sexual encounter, but it is still largely misunderstood by a large swath of the population who conflate sexual interest, prior relationships, or even someone's outfit to consent.
For those still wondering what consent is and why it matters in every relationship and every sexual encounter, here are five nonfiction books that explain exactly that.