7 Types Of Sexual Assault We Need To Stop Minimizing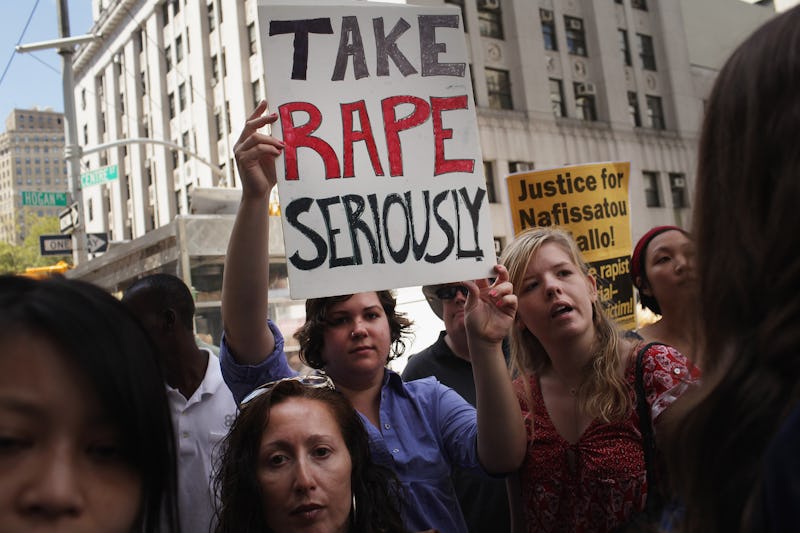 Spencer Platt/Getty Images News/Getty Images
As a society, we still can't seem to agree on what is categorized as sexual violence. Questions like "Can sex workers be raped?" or "Is it still assault if the people involved are married to each other?" are all part of a broader conversation on the types of sexual assault we need to stop minimizing (because the answer to both of those questions is yes). Treating all sexual assault with the severity it requires starts with the ability to acknowledge what it is in the first place.
The lack of awareness about what constitutes sexual assault often stems from a lack of understanding about consent. Culturally, we are unfortunately still widely unclear about what is and what is not consent. To be completely clear, an act is only consensual when all parties involved express an enthusiastic, continuous "yes." While it is correct that "no means no," that is only a fraction of the conversation we should be having about consent. "No means no" does not address things like coerced consent or things like nonconsensual pornography, where a victim may not know about an incident until after the fact. Our conversations on consent need to be all-encompassing.
The statistics on sexual assault reveal an all-too-common reality. If we want to work towards a becoming a culture that takes sexual violence seriously, we need to treat all forms if it with severity. Here are seven types of sexual assault and harassment we need to stop diminishing.