Lena Waithe's Comment On The Aziz Ansari Allegation Urges A Dialogue About Consent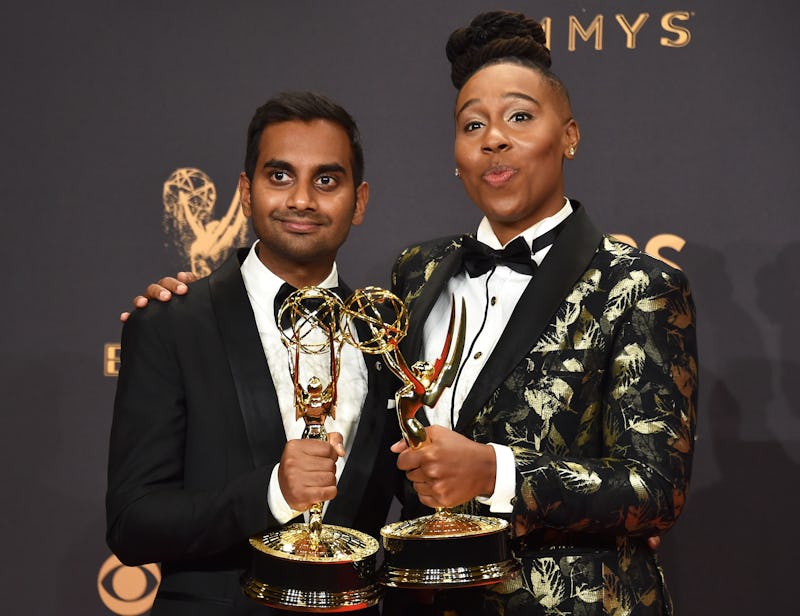 Alberto E. Rodriguez/Getty Images Entertainment/Getty Images
Master of None Emmy Award-winning writer and actor, Lena Waithe responded to Aziz Ansari misconduct claims during an interview on KPCC radio show The Frame. The performer, who has been a vocal supporter of Time's Up, explained to The Frame host John Horn that understanding and addressing the allegations lodged at Ansari, and other people who allegedly engage in sexual misconduct, is not a matter of picking "sides," but instead opening up a dialogue.
In January, a photographer came forward anonymously in an interview with Babe.net with allegations that Aziz Ansari coerced and pressured her into sexual activity despite her verbal and physical attempts to show her discomfort with his advances. Ansari responded to the claims by confirming that he had an encounter with the woman, and that the next day she sent him a text message writing that though she might "seemed okay" she was "uncomfortable." He wrote in a statement to The Hollywood Reporter:
It was true that everything did seem okay to me, so when I heard that it was not the case for her, I was surprised and concerned. I took her words to heart and responded privately after taking the time to process what she had said.
The encounter has since inspired many think pieces and essays about the nature of consent and the troubling situations many young women face.
Waithe did not condone or condemn Ansari's actions in the interview, instead chose to focus on the bigger picture. "Here's the truth — in every situation, it's not always black-and-white," Waithe said of the allegations. "And I know that's simple for people, and it's easy for people to [ask], 'Whose side are you on?' There are no sides, really, in some of these scenarios."
Waithe plays Denise, one of Ansari's best friends on Master of None. She also wrote the critically-acclaimed, award-winning Season 2 coming out episode, "Thanksgiving." Waithe made history with her Emmy success, becoming the first black woman to win for best comedy series writing. In addition to her success on Master of None, Waithe has also created the new Showtime drama series The Chi, about a neighborhood in the South Side of Chicago.
Waithe has chosen a different approach from another Ansari-friend Amy Schumer. Schumer said that despite her relationship with the fellow stand-up comedian she identified first with the woman in the story. "He's been my friend and I really feel for the woman. I identify with all the women in these situations," Schumer said on Katie Couric's podcast. "Even if it's my friend, I don't go, 'oh, but he's a good guy.' I think, 'what would it feel like to have been her?'"
However, instead of "picking teams" Waithe wants allegations to inspire change. She explained to John Horn:
"I think a big thing is, we have to have a dialogue. And I think if we're unwilling to have a dialogue we're gonna continue to keep hitting our heads against the wall. We have to start reeducating ourselves about what consent is, what's appropriate behavior at the workplace. We have to create codes of conduct."
Waithe argued that while it might seem obvious to many people what counts as misconduct or harassment, there are some people who are unclear about what behaviors are inappropriate. By creating a codes of conduct she hopes that everyone can be on the same page. She also extends this to consent, asking everyone to educate themselves and each other on consent.
Though she did not name Ansari, Waithe might have alluded to the Babe story when she added to her point about consent, "It's about really educating ourselves and not stepping in it and just [saying], 'Oh, I'm sorry. My bad' — and sort of keep going." Many have criticized Ansari for being a self-identified feminist, who, regardless of the legality, fell short on gaining his date's affirmative consent — a form of consent many feminists push for, that goes beyond "no means no" to call on all parties to verbally consent to all sexual activities before engaging in the act(s).
Regardless of how the allegations against Ansari affect his professional relationships moving forward, the claims have opened up a discussion. Waithe would like for the discussion to lead to changes in how we educate ourselves and conduct ourselves in the workplace.