5 Psychological Benefits Of Having Houseplants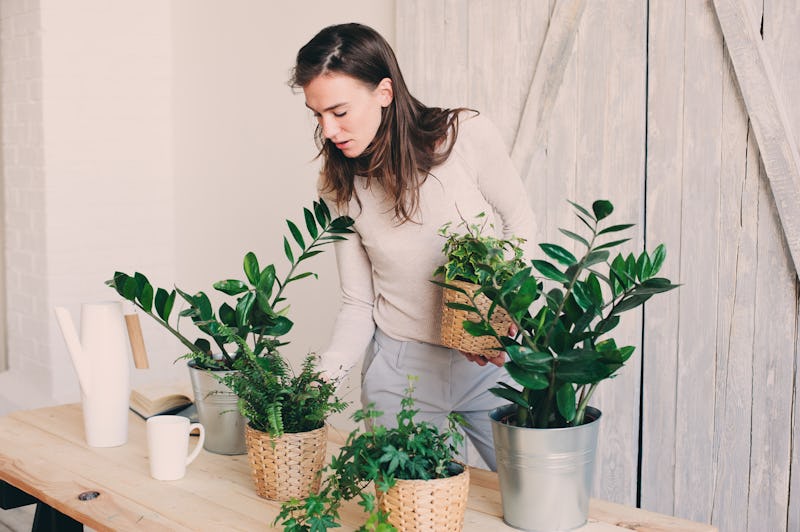 mashiki/Fotolia
The other day, my boyfriend caught me giving my monstera a shower. I thought he was sleeping and I'd lifted the massive plant, terracotta pot and all, and brought it into the bathroom. I chatted with it as I squeezed it through the doorway, careful not to rip any leaves, and placed it carefully in the tub. I kept talking as I ran the water, watching as its leaves perked under the lukewarm shower and wondering how it had gotten so big, so fast. Does that sound kind of weird to you? It doesn't if you're a plant person.
And an increasing number of people are becoming plant people lately, whether it's via incredible plant-focused Instagram accounts like The Jungalow or just because they feel like it's time to get some green in their home.
"For me, what I love about having plants are how much life they can bring into your home," Hilton Carter, who runs a popular plant Instagram, tells Bustle. "They create so much warmth and euphoria, it makes you never want to leave. I also love watching them grow and change overtime. Seeing a plant you've successfully kept alive grow from a young plant to full grown adulthood is exciting. "
And owning plants comes with some serious benefits that go beyond interior decorating. For me, the main psychological benefit of having plants is having something to care for. I like keeping an eye on their new growth; turning them so they face the sun; making sure they get enough (and not too much) water. I like fussing over them and looking at them and knowing that my love and care keeps them healthy and strong.
But anecdotal evidence is one thing. What does the science say? Here are five psychological benefits of having houseplants.