What I Miss About My Dating Apps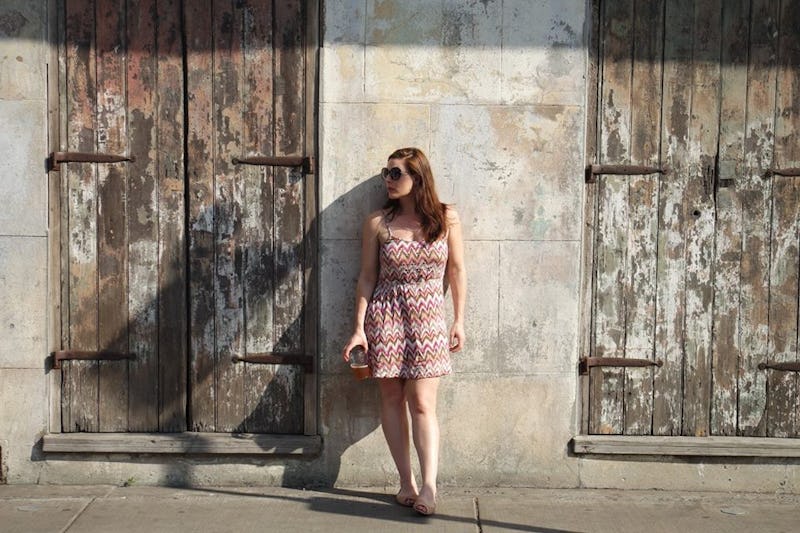 Author's Own
Whether dating apps are causing a "dating apocalypse" or are merely the easiest way to get a date, there's no denying these tools have been total gamechangers in the dating scene within the last few years. And even though dating apps are most popular among millennials, according to a recent Bustle survey with dating app Happn of over 1,000 dating app users, 78 percent of women and 85 percent of men still want to meet people IRL. That's why for the second year in a row, Bustle is deeming April, "App-less April" and encouraging our staff and readers to delete their dating apps for 30 days and meet people the old-fashioned way: offline. With participants tracking their progress and tricks and tips from dating experts, we'll be helping you feel empowered to meet people IRL all month long.
It was halfway past 4 p.m., the morning after and still... no message. The silence was deafening — after so many months, so many moments, so many long-lost hours in the night, so many years… how could there just be, nothing? I felt the void in a bigger way than I expected to: I knew it'd be tough, I knew it'd probably feel differently and strange for a while, but I didn't expect to well, long to go back to the past. To the way we were — before I deleted my dating apps.
Much like letting go of a relationship, when I officially called it quits with online dating, it was difficult not to re-download in moments of weakness. Or to be jealous of my pals when they swiped next to me at brunch. Or to not receive that ping of confirmation that yes, indeed, I am desirable, I am worthy of attention and love. If you're doing Bustle's App-less April, a challenge to delete your dating apps for a month, you may being going through the same things right now, especially if it's the first time you've deleted them.
Though I'm mostly over the initial heartbreak, shock and denial period, here are some things that I still miss about my dating apps, more than a year since getting rid of 'em.
When *some* men online date, they swipe right on everyone, seeing how many matches they can get. I'm not sure if it's right or not, but more often than not, I matched which nearly everyone I said yes to. Though it's a superficial confidence boost — I found it to be an effective one.
Without actually putting on makeup, putting on any clothes, or ya know, speaking out loud — I felt desired and attractive by hundreds of men, all the damn time. Since now I try to meet guys through common activities and mutual friends, I still do feel that way sometimes, but it's much, much, much less frequent.
I once did this experiment where I randomly messaged guys I matched with within the past 48 hours if they wanted to grab a drink as the ice breaker. I probably reached out to 15+ men, and about 10 of 'em said 'sure!' Though I didn't go out with all of them, it was an interesting perspective to have — at any given moment, I could have a date all the time, if I wanted them. It's not as easy when you're without an app to connect you to recreate the same experience offline.
The thing about online dating that is misleading is how effective it is for making you feel like you're dating when you're, um, not. At all. "Sifting through hundreds of online profiles and messages takes your already scarce free time away," Camille Virginia, Founder of Master Offline Dating, tells Bustle. "Plus, there's the burnout. The amount of energy you invest in online dating doesn't always equal your success in finding a match."
Toward the end of my relationship with my dating apps, I was spending plenty of time logging in and chit-chatting, but not a lot of time meeting face-to-face to explore the possibilities. Even so — I felt like I was very active. I felt like I was truly throwing my hat into the ring, being noticed and figuring out what I wanted. In reality though? I was hanging out in my oversized t-shirt from college, watching Netflix, and not actually seeing a damn man in person. Nevertheless, I miss feeling accomplished at the end of every day, convincing myself I checked 'dating!' off my to-do list.
Considering I used to write a dating blog until a year ago (see the parallels here?), I used to be quite the storyteller about dating horror stories. It was always a fun part of happy hour and not having these odd, sometimes ridiculous, experiences sometimes feels like I'm not fully participating in life and enjoying it. But when I think about it — dating now feels more adult, more meaningful and more like… well, me.
If Thursday evening rolled around and all my besties were booked and no one from work wanted to grab 'It's 5:00 somewhere' drinks with me on Friday, I'd quickly get on a dating app and find some plans for Friday. It was simple enough to do, most of the time, and though I probably should have spent the evening having me time (or ya know, seeing a movie?), I forced myself to 'date' — even when I wasn't really that into the guy. The kicker? Now that I often don't have Friday plans, I still feel that urge. But instead, I do something that makes me truly happy, instead of just going out with a rando dude I'll forget about an hour past our first drink.
Though in the long run, I feel like being part of the anti-online dating camp is better than hanging out in a pool of duds that didn't mesh with me, at times, I really wish I could go back to my old routine of dating without a care in the world. (Disclaimer: I never felt that way, but I convinced myself I did to keep going on dates.)
Join the campaign and share your stories with #ApplessApril and ​by ​tagging @Bustle.