Upcoming Marches & Protests To Help Out With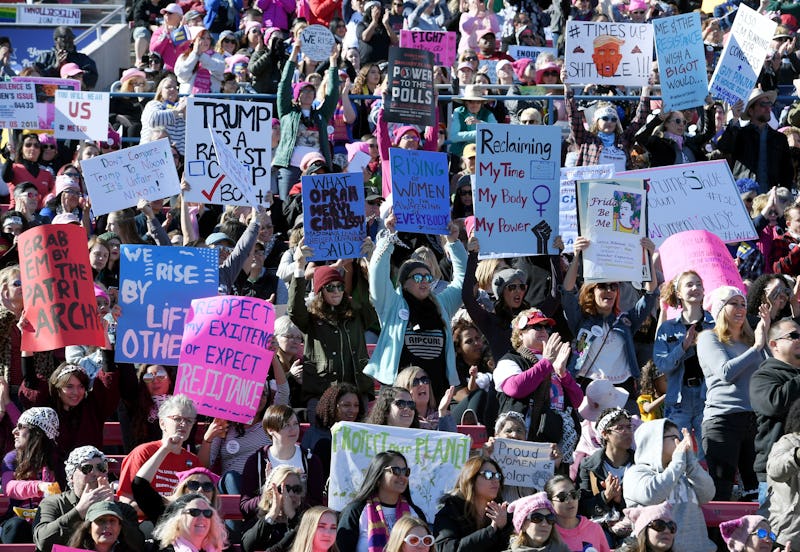 Ethan Miller/Getty Images News/Getty Images
The Women's March, although not without its flaws, was a massive win for human beings, with millions of people coming together across the world in the name of equal rights. But the job isn't done yet — not nearly. We have to keep this momentum and take action to see real change, which means there are plenty of upcoming marches and protests that need your help to organize as Trump's presidency continues.
Estimates for the number of women who attended the Women's March in Washington, D.C. put the figure in the ballpark of 500,000 people. In the entire United States, it's estimated that 3.3 million people marched, possibly making this the largest day of demonstrations in our history. Consider how much that number grew with people marching globally, from Antarctica and London to Australia and New Zealand.
Naysayers argue that we're a bunch of crybabies. "What are they even fighting for?" one person on my Facebook questioned. Definitely not safe and affordable access to reproductive health care, control over our own bodies, or equal pay for equal work. Definitely not an end to systemic racism and discrimination. Definitely not the right to love who you love, no matter who you are. Nope. Definitely not things like that.
January's Women's March set records, stole headlines, and apparently ruffled a few feathers with the new president. But in order for this not to become "yesterday's news," in order for this to leave a lasting impression, help spark change, and unite people across the world who believe in equal rights for all, we have to maintain our position and keep peacefully demanding what we, as human beings, are deserving of and entitled to.
The Women's March was a good taste of what we can do when we come together. Want a little more? Here are some other marches and protests that could use a hand. Organizing is one of the most powerful things we can do right now, and every little bit helps.
Image: Getty Images