You're Probably Applying Your SPF Wrong, But These Simple Tips Could Change That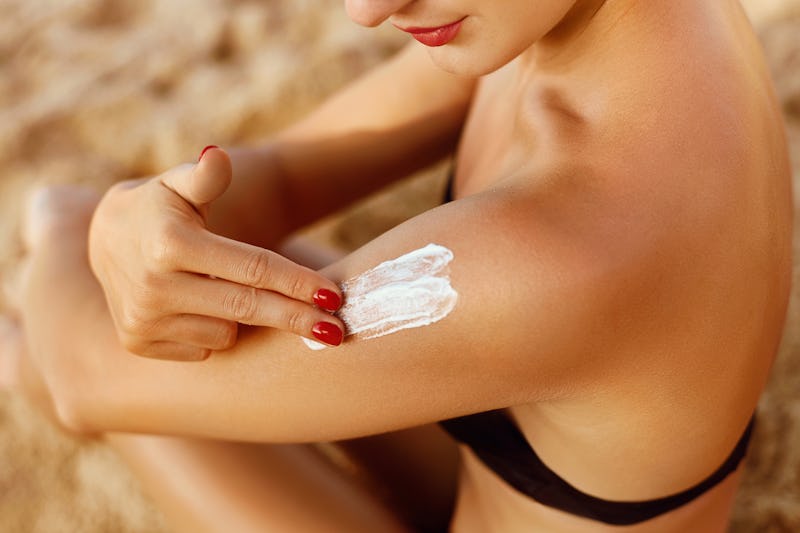 verona studio/Shutterstock
It's easy to think that you can't go wrong with sunscreen. After all, simply applying it is ensuring you're protected from those potentially dangerous rays, right? Well, not quite. Applying a too thin layer, missing visible skin, and forgetting to reapply throughout the day are all common mistakes. To help you avoid the pitfalls, I've put together a guide featuring five easy ways to make your sunscreen more effective.
A good sunscreen — often known as a broad spectrum sunscreen — is designed to protect against both UVA and UVB rays. The two types of ultraviolet radiation have differing effects. Exposure to UVB rays can result in sunburn, explains the Skin Cancer Foundation, while UVA can hit the skin in a deeper way, leading to premature ageing. Both rays also play a role in the development of skin cancer.
The sun protection factor (otherwise known as SPF) is a measure of how well the sunscreen can protect against UVB rays. A star rating is used for UVA protection. As the NHS states, five is the highest rating. If you see "UVA" written inside a circle on the sunscreen bottle, this signifies that the UVA protection is a minimum of one third of the SPF number and sticks to EU guidelines.
Now you know all the lingo, it's time to refresh your knowledge on best sunscreen application. Follow these tips and it's possible that you'll never burn again.