The DIY Wedding Projects That Are Actually Worth Your Time, According To Brides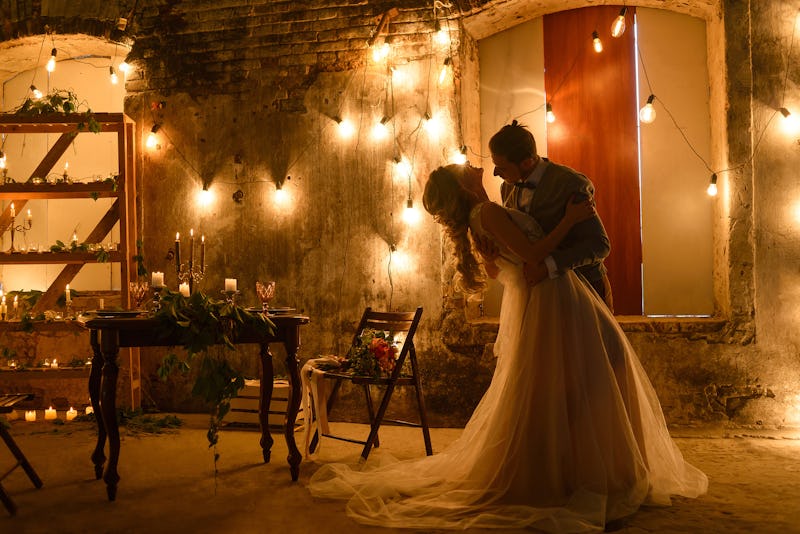 illustrissima/Fotolia
It's not really a secret that weddings can be super expensive: from the venue to the custom invitations to the catering, there's a lot of stuff to pay for. Unfortunately, not every proposal comes with a winning lottery ticket, and there's absolutely no shame in being a bride on a budget. That being said, the idea of completely DIY-ing your wedding is (understandably) overwhelming — luckily, there are wedding DIY projects that are worth the effort, because they'll ease the strain on your wallet and make your wedding planning smoother.
According to a 2016 study by The Knot, wedding spending is at an all-time high: the average cost of a wedding has increased by $5,500 in the past five years, with couples spending $32,641 on average in 2015. The evidence is all over your social media feeds: it seems like modern weddings are considered "boring" unless they boast scenic venues, sumptuous-looking food, and extravagant honeymoons. Honestly, as long as you're responsible and budget properly, I'm all for spending as much as you want on your own wedding — it'll be one of the most memorable events of your life, after all. But for anyone who'd prefer to keep costs low, there are plenty of awesome resources that can help you DIY your own wedding (at least some parts of it, anyway).
Plus, DIYing may even boost your mood if you're feeling stressed with all the wedding planning. "I find interacting with crafts or other forms of art therapy completely cathartic," Elyse Fox, a mental health activist, tells Bustle. "Art therapy provides an outlet for expression that you may not have been able to put into words."
Check out the entire 'Young Money' series and other videos on Facebook and the Bustle app across Apple TV, Roku, and Amazon Fire TV.
If you need some inspo from a source other than Pinterest, here are the DIY wedding projects that have been tested and approved by brides.