7 Clever Nighttime Habits That'll Make You Feel More Connected to Your Partner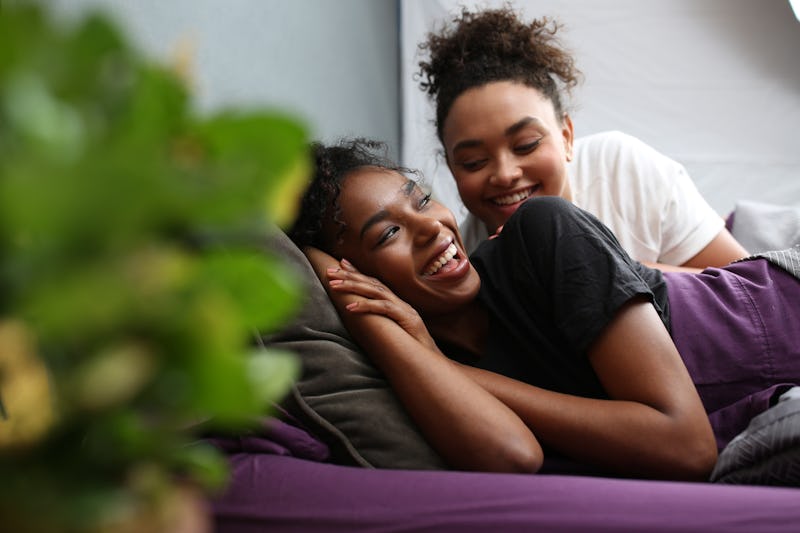 Ashley Batz/Bustle
Regardless of whether you live with your partner or not, spending the night with them can be a much needed de-stressor from your busy day. However, it's hard not to get caught up in the hustle-and-bustle of the real world. Often times, you and your partner may be in the same bed, but your minds may be elsewhere. Whether one of you is reading a book while the other one is catching up on unfinished work from the day, it's hard to stay present and connected to each other. If you're looking to feel closer to your partner, there are lots of productive and intimate nighttime habits to start with your partner if you're looking to feel more connected to them.
These routines go beyond the obvious one of just having sex (but this is equally as important). In fact, many of these routines are just as intimate, but also super low-key and casual.
The first step to creating your routine with your partner is to figure out what works best for your relationship "Create a nighttime ritual which reflects the couple's identity. Whether it's dancing to a jazz song or telling a joke, identify a routine that brings a smile to both partners' faces," sex expert and consultant Dr. Dorothy M. Russ, tells Bustle.
So whether your prefer peacefully reading together or even brushing your teeth together (if you have a big enough sink), here are some more unexpected and adorable nighttime habits that you and your partner can start, according to experts.