7 Crystals To Help You Harness The Good Energy From This Month's Full Moon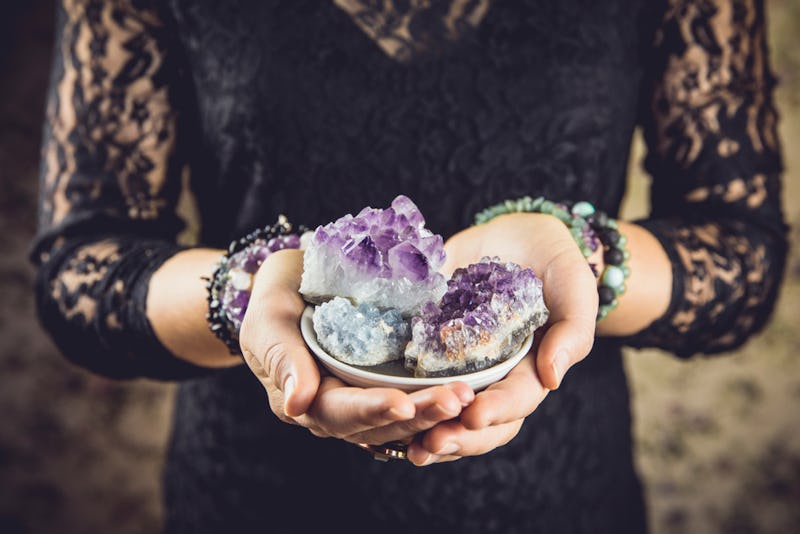 ShutterStock
The last full moon of the year will rise in Cancer on Dec. 22. Is this full moon is coming right before the year 2018 is about to end, it makes sense that it is all about excitement, positive change, and pleasant surprises. Full moons are generally an emotional time when opposing forces in your life are highlighted. You may see important things in your life, like your relationships, job, and home, in a different light. You can use all of your emotions to get through anything you've been struggling with, and use that positive full moon energy to end your year on the right note. And you can also use certain crystals to really take advantage of that energy. There are some crystals for the December full moon you should definitely have if you really want to do things right.
Astrology King says that this full moon is a good time to "follow your intuition and be open-minded about any unexpected opportunities that arise." The site also says that you're going to feel more open to change, that you might look for something new, and that you'll be more apt to follow your instincts instead of second-guessing everything. In other words, this is a good time to embark on something new, and there are certain crystals that can really help you harness that kind of energy in the best way.
If you don't already have the below crystals, be sure to pick them up now for your full moon ritual. You can then use them as you see fit on Dec. 22, and the days before and after. Enjoy the positive vibes!