7 Cleaning Tips That Are Harsh Chemical-Free — And ACTUALLY Work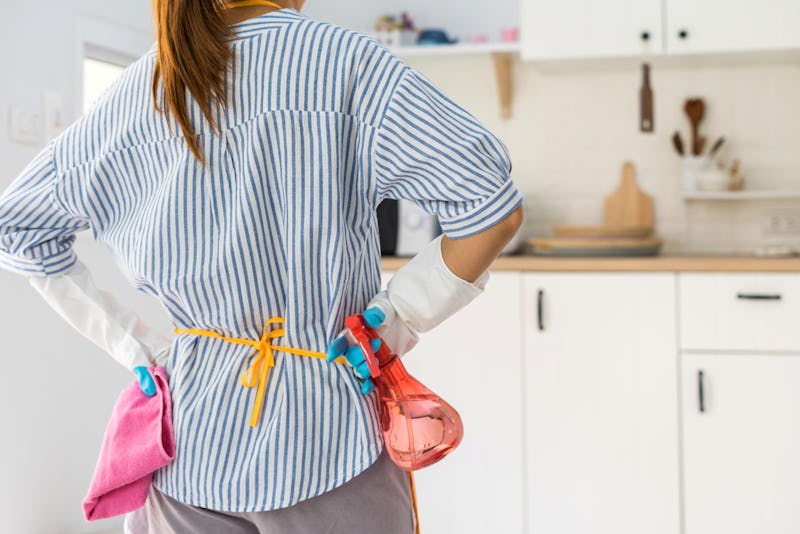 kitzcorner/Shutterstock
When you grow up in a hippie household, you learn a lot about eco-friendly cleaning. There was no bleach in my childhood home, and I'm pretty sure my mom doesn't even know how to use it. And I honestly couldn't have a named a conventional bathroom cleaner until well after college. All of this to say that when friends tell me they want to switch to more eco-friendly cleaning options, I'm like, "I've got you."
My mom claims she isn't a hippie, but check this: She drove to Vermont from New York City in 1973 in a VW bus, lived on a farm, and then ran a pottery co-op for over 40 years. Sounds pretty hippie-ish to me, Mom.
But, all teasing aside, I'm really grateful for the hippie values that my mom picked up in 1970s Vermont, even if she'll never claim the moniker. I grew up eating whole grains, seasonal fruits and vegetables, and with limited exposure to harsh chemicals. That's because my mom knows all the tricks of eco-friendly cleaning products, from which ones to buy to how to make your own.
Why choose eco-friendly products over conventional? Well, for one, minimizing your exposure to harsh chemicals, especially on surfaces where you prepare food, means reducing your exposure to potential carcinogens or hormone disrupters, according to CNN. But these harsh chemicals can have just as much of an impact on the planet as on our bodies when they get rinsed back into our water system, meaning you're also reducing the risk of polluting the earth when you choose these products. Win-win, right?
In that spirit, I'm going to share a little bit of my mom's eco-friendly cleaning knowledge with you. Enjoy that harsh chemical-free life, friends!