7-Eleven's "Bring Your Own Cup" Day For Slurpees Is Friday — Here Are The Rules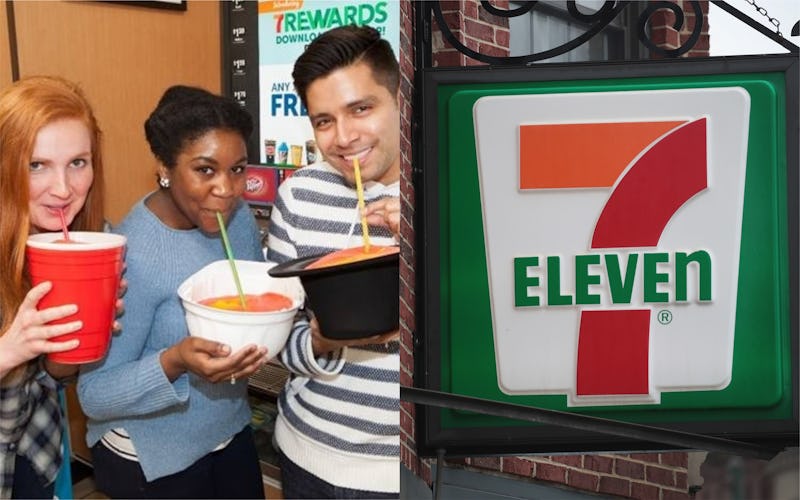 Scott Olson/Getty Images News/Getty Images; 7-Eleven
If you love to take advantage of Black Friday deals and plan on being out doing a marathon shopping spree all day, then one thing is for sure: you're going to need comfortable shoes, a lot of patience, and something sweet to get you through the day. While a giant cup of coffee is great to keep you awake, you can't sip on that throughout the entire afternoon, or you'll be completely wired! Instead, you should grab something a little sweeter and a little more fun — and your favorite convenience store is going to make that even easier to do. 7-Eleven's Bring Your Own Cup Day is on Friday, Nov. 23, and you definitely don't want to miss out.
Bring Your Own Cup Day (also affectionately known as BYOC Day) is a fan favorite for everyone who frequents 7-Eleven ... and even for those who don't. On this magical day, customers are encouraged to bring their own cups to fill up with their favorite Slurpee drink of choice. This means you can literally bring any kind of cup you want, whether it's a thermos to keep it cool for hours, something logical like a travel mug, or something gigantic and silly, like a cookie jar, a bucket, or even a punch bowl. Basically, if you can drink out of it, you can fill it up, because 7-Eleven doesn't care what size it is. Well, as long as it is leak-proof, safe, sanitary, and fits upright within the in-store BYOC display cutout, which is 10 inches in diameter. After all, you can't fill up something too ridiculous.
The best part about all of this is that you'll pay only $1.49, which is normally the price of a medium-sized Slurpee drink. For less than $2, you can fill up a giant cup with your favorite Slurpee, which is honestly a pretty great deal. Take advantage of it! Don't just bring in a small, "normal" sized mug — bring in something bigger so that you can nurse that Slurpee for as long as you need to. The BYOC special will be going on at participating 7-Eleven stores from 11 a.m. until 7 p.m., meaning you have most of the day to pop into one and get your Slurpee fix. All of that sugar may lead to a less-than-convenient mandatory nap later, but it will definitely help keep you awake while waiting on line for your Christmas gifts. Or, you know, while you're watching holiday movies on the couch eating leftovers.
Oh, and if you're a 7Rewards member, you'll get another extra perk as well: you can enjoy a slice of pizza for 50 cents per day from Black Friday through Cyber Monday (Nov. 26) via the 7-Eleven smartphone app. So, if you're looking for a very quick bite in between stores, 7-Eleven has got you covered.
If you do partake in the chilly festivities, be sure to share your BYOC day experience on social media. 7-Eleven is promoting the hashtag #BYOCDay2018 so that Slurpee fans everywhere can unite over their love of the slushie drink.