7 Fascinating Things Every Woman Should Know About Acne Down There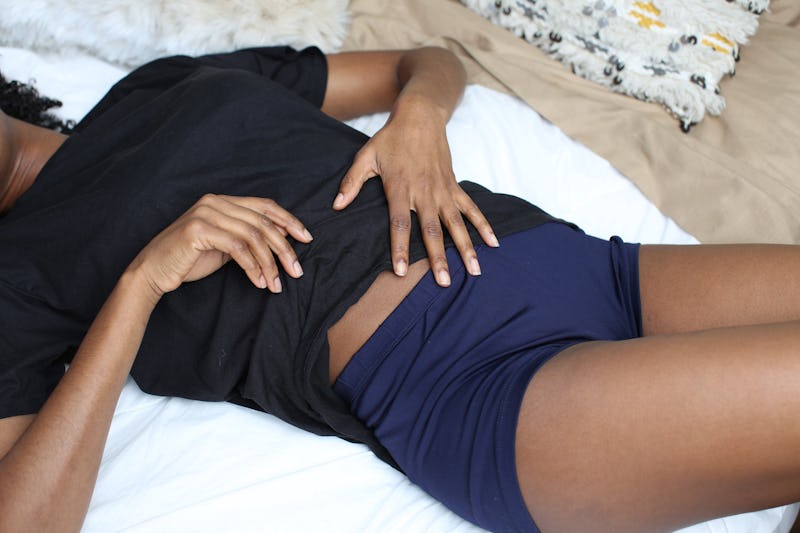 Ashley Batz/Bustle
If you ever find bumps around the vaginal area, it's easy to automatically assume that you have a sexually transmitted infection. But there's no need to worry or jump to conclusions right away. Sometimes, it may just be a case of vulvar acne.
As board-certified dermatologist, Tsippora Shainhouse, MD, FAAD, tells Bustle, "In general, acne develops due to a combination of four factors: excess sebum production or oil, which is usually hormone-related, follicular hyperkeratinization, which is a build up of keratin in the follicles/pores, bacteria on the skin, and an inflammatory response in the skin to all of the above."
Vulvar acne, which is also sometimes called vaginal acne, is common. In fact, Dr. Shainhouse says that it's very common to develop at least one or two lesions ever in your life. "I can see three patients in a day with them," she says.
Just like any other kind of pimple you find on your body, it can show up as red bumps on the skin that range from itchy and uncomfortable to painless. But unlike other pimples you can find on your face or chest, Dr. Shainhouse says that vulvar acne usually presents itself as folliculitis (inflamed hair follicles), discrete abscesses, or a more serious and rare skin condition called hidradenitis suppurativa, or long-lasting bumps under the skin.
For the most part, pimples around the vagina are really nothing to worry about. But here are some things all women should know about getting acne in that area, according to experts.