7 Habits You Don't Realize Can Cause Your Negative Self-Talk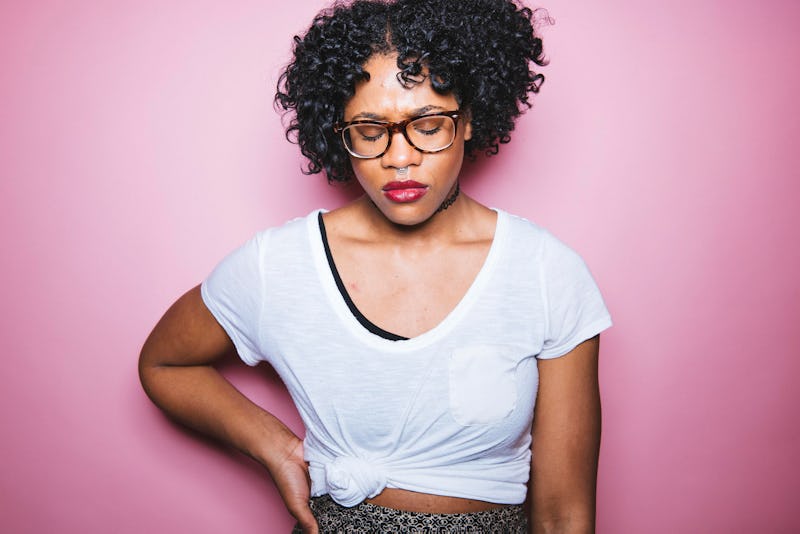 BDG Media, Inc.
Everyone says bad things about themselves every once and a while. But when negative self-talk happens regularly, it can become really destructive. If you're looking to curb unhelpful thinking, finding out what habits cause negative self-talk might be a step in the right direction.
Self-talk is your way of figuring out who you are in relation to the world around you. "We use self-talk to interpret what is happening around us, and to essentially explain to ourselves what we are seeing, how we are feeling and what it all means," Joshua Klapow, Ph.D., c linical psychologist and host of The Kurre and Klapow Show, tells Bustle. "Our self-talk is used to guide us through every moment." Good self-talk, like positive affirmations, can make even the most difficult moments easier.
On the other hand, negative self-talk can make everyday situations more difficult. "Negative self-talk is when we internalize and accept negative messages about who we are, how we should act, or what we should feel from outside sources," licensed professional counselor Melissa Coats, tells Bustle. "They are usually learned in childhood, but can also be developed over time. They become automatic and subconscious." Since these thoughts can be a struggle to overcome, it may be easier to prevent them, or work on ways to keep them at bay.
One of these helpful skills is identifying any habits you have that might be exacerbating negative self-talk. Curbing these habits may prevent mental and physical problems down the line.
Here are seven habits you didn't realize can cause your negative self-talk, according to experts.