7 Unexpected Signs Negative Self-Talk Is Impacting Your Physical Health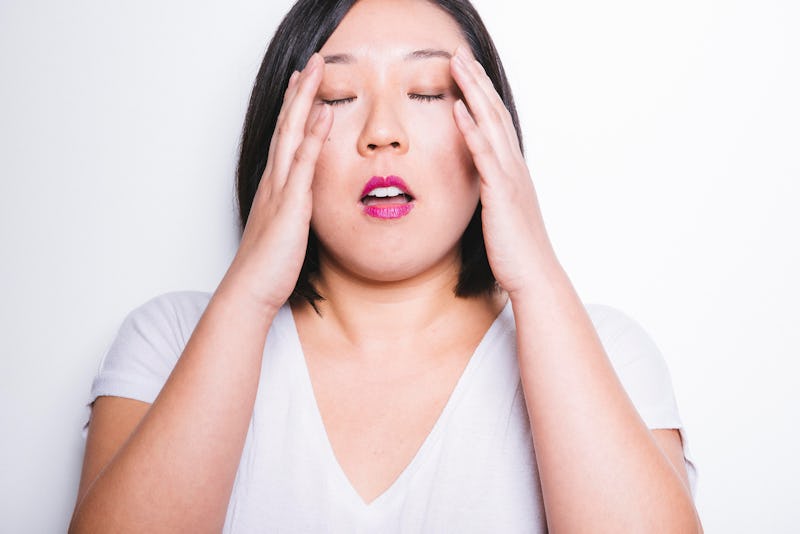 BDG Media, Inc.
Unfortunately, the reality is for many people that negative self-talk is part of everyday life. Most times it just flies by and doesn't help or hurt. But if you can't brush past it, or if it starts to take up a lot of space in your day, it can become a serious problem for your health. Like a lot of stress and mental health issues, becoming fixed on negative self-talk triggers a mind-body connection that is very, very real.
But what is negative self-talk? It can be anything from taking rejection personally, to having a bad thought about a stranger on the street. "Negative self-talk is that internal, critical voice you hear," Sara Stanizai, a licensed psychotherapist and the owner of Prospect Therapy, tells Bustle. "You might hear it more often when you are being critical of someone else. Perhaps you relate to them in some way, and when you criticize them, you are really criticizing yourself." Basically, any thought you have that is disproportionately critical to yourself (or others who share traits with you), is negative self-talk.
In small doses, like most things, it's OK to have these thoughts. "Periodic negative self-talk is normal and not harmful," Joshua Klapow, Ph.D., clinical psychologist and host of The Kurre and Klapow Show tells Bustle. "However, when we have a negative filter up, when we take all information or most information and turn it into something negative it has emotional and physical consequences ... Basically our internal dialog creates a physiological response, which can do physical harm." And while the mind-body connection is only now being adequately researched, there's definitely signs that these mental habits can be very physically draining.
Here are seven surprising effects negative self-talk can have on your body, according to experts.