7 Little-Known Risks Of Using Coconut Oil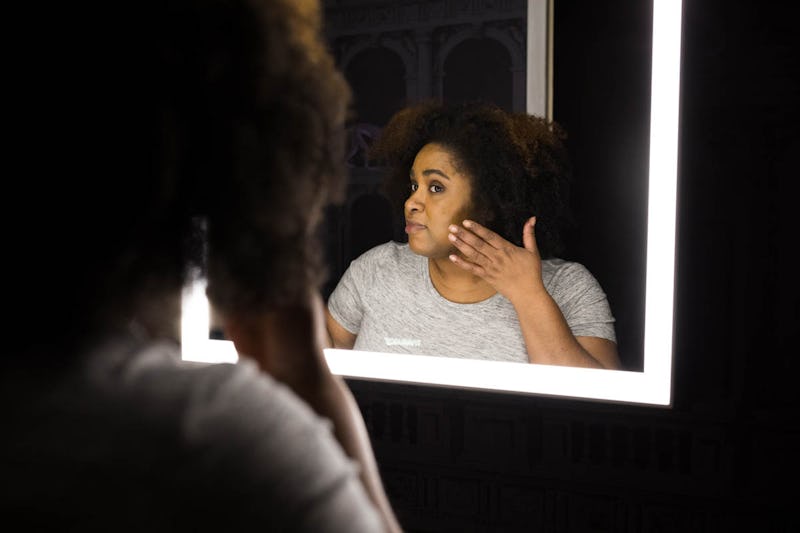 Ashley Batz/Bustle
Coconut oil tastes good. It can make your skin feel really good too. But, like most things, it should be used in moderation. If you're not careful about when and how you use this "miracle" product, the risks of coconut oil can become apparent.
Just as much as coconut oil isn't a cure-all, it's also not something to be completely afraid of. However, the narrative surrounding coconut oil may have you glossing over some really important points. "Any time a food becomes trendy, the temptation is to fill our diets with it — in any and all forms," registered dietician and Mealshare pro, Katie Goldberg, MCN, tells Bustle. "Just like you wouldn't replace all your vegetables with kale, you shouldn't replace all of your fats with coconut oil." The same truth about moderation is important for skincare, too.
"Although coconut oil is a natural source of vitamins and fats which have numerous health benefits, too much of anything can be dangerous," Joseph B. Davis DO, FACOG, medical director at Cayman Fertility Center, tells Bustle. Moreover, certain medical conditions may make coconut oil a less-than-ideal option for your skincare and food needs.
While coconut oil is definitely worth keeping around, it's also worth taking stock of what is actually in the product, how it works, and whether it's right for you. Here are seven little-known risks of using coconut oil.