7 Little-Known Ways Anxiety Can Manifest Physically While You're Sleeping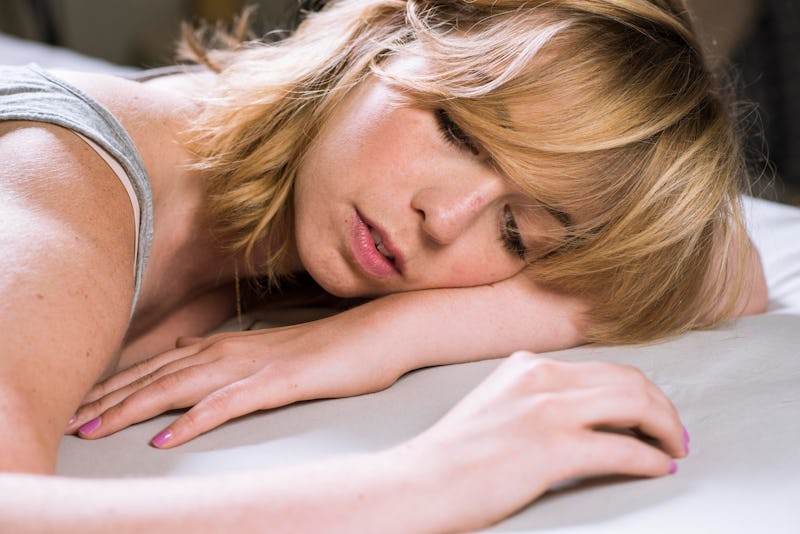 BDG Media, Inc.
Jerking awake, night sweats, and even recurring dreams may feel more like occasional sleep disturbances, rather than any serious signs worth paying attention to. In reality, all of these symptoms and more can be a sign that your anxiety is beginning to affect your sleep. While falling asleep may feel like a respite from anxiety, it actually turns out that anxiety and sleep are strongly connected, and your feelings manifest even when you're in your deepest sleep.
If you aren't connecting the dots on how anxiety might be affecting your sleep, or if you don't have a roommate or partner to witness what goes on with you at night, then you might be totally in the dark when it comes to understanding your nighttime anxiety symptoms.
Dealing with anxiety likely means you're quite familiar with all sorts of symptoms, including things like insomnia from anxiety. But once you fall asleep, unfortunately, your body isn't able to turn off its response to distress. "Anxiety definitely does not go away while you are sleeping," Katrina Pointer, licensed psychotherapist and owner of Love Therapy, tells Bustle. "Your anxiety actually increases when your body is idle at night. People do things daily to attempt to hide from or push their anxiety to the side. Therefore, when your body is calm and silent your anxiety sees that as a time to activate." So even though you're most likely pinpointing and paying attention to the symptoms you experience during the day, it's still worthwhile to understand what's going on with your anxiety at night.
Here are seven physical ways anxiety can manifest when you're sleeping, according to experts.