The Number Of People Having Sex In The Crowd At Music Festivals Will Truly Shock You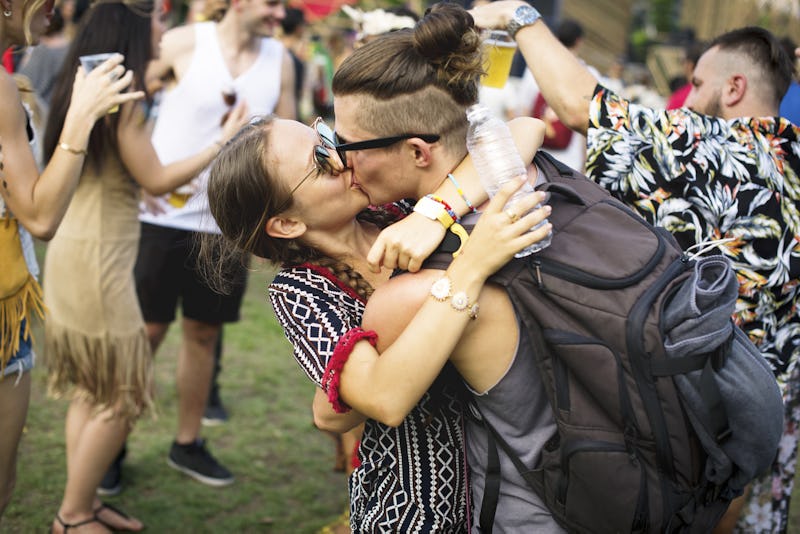 Rawpixel.com/Fotolia
When you think of great locations to have sex outside the bedroom, you probably think of the romantic classics — the beach, a hot tub, maybe even the back of a car. What you don't think (probably) is to have sex right in a terrifying box that is also a bathroom being used by thousands of strangers. And yet — and yet — new data shows that 9.4 percent of people who have had sex at a festival have done it in a port-a-potty. Yup, about 10 percent of people who decided to get down to the music said to themselves; "Let's do a vigorous physical activity in a smelly box that, if we knock it over, will cover us both in poop." Ah, young love.
The data comes from TickPick, a ticket bidding site, that surveyed around 1,050 festival goers on everything to do with hookups and festivals. Because it happens a lot — 33.6 percent of festival goers had had sex at one and 46.4 percent of festival goers had had oral sex with someone they just met. Talk about moving to the music. And, by a long shot, the number one sex positions they were going for was doggy style — the choice of 43.9 percent of festival sex-havers. Which, if you're having sex in a port-a-potty seems... well, it seems smelly.
But portable bathrooms were only the choice for 9.4 percent of people. Here were the top sex festival locations, because a surprising amount of people are just going for it in the crowd.