Trader Joe's Just Dropped 7 New Products That Will Make Dessert Lovers Swoon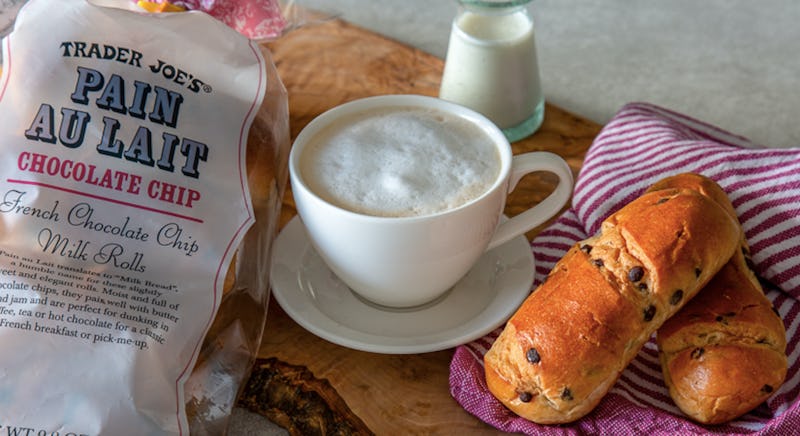 Trader Joe's
Dessert, from the Latin desserte, which, loosely translated, means food meant to be enjoyed in moderation but you should probably eat it with every meal anyway. (I said loosely translated!) If you've got a serious sweet tooth and want delicious treats that are both expertly crafted and reasonably priced, there are seven new desserts to try at Trader Joe's that will have you seeing sweet treats in a whole new light.
There's something special about Joe's. Maybe it's the cheerful employees in the Hawaiian shirts. Maybe it's the fresh flowers. Maybe it's the fact that they'll let you sample literally anything in the store before you commit to buying it, which is especially amazing because sometimes, I need a snack while I'm doing my grocery shopping.
Side bar: How can I get one of those Hawaiian shirts?
Trader Joe's has experienced a renaissance of sorts, as people have suddenly become aware of how amazing it is. (I always knew this, FYI.) Last year, they completely outdid themselves with their advent calendar for dogs.
More recently, someone spotted pancake bread at Trader Joe's, and get TF out of my way because I want all of it. Breakfast is going to be lit.
Their seasonal fall items put other stores' pumpkin offerings to shame.
And I'll spare you my monologue on how orgasmic Trader Joe's plantain chips are.
Seriously, guys? They're so perfectly crunchy and crispy, and if you love salty snacks, your mouth won't know what hit it. Plus! They *actually* taste like potato chips, but they're plantains! Which means they're healthier! Which means you can eat more!
Next time you're in Joe's neighborhood and you've got a hankering for something sweet, here are seven desserts to nibble on (/devour whole).