7 Old-Fashioned Flirting Techniques That Your Partner Will Love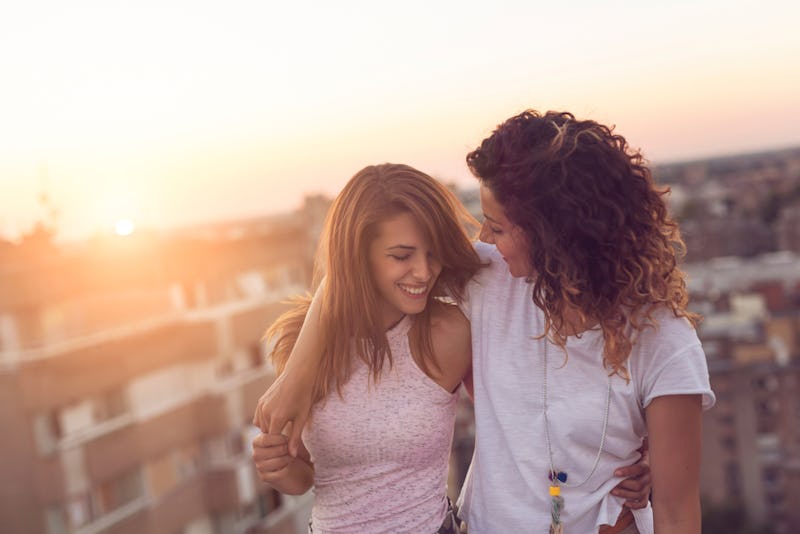 Impact Photography/Shutterstock
You might imagine that old-fashioned flirting techniques are much less effective than today's habits. After all, what can making eyes over a handheld fan or softly touching someone else's hand really accomplish? According to experts, a lot. If you've been with your partner for a while, you probably don't show them the tiny, flirtatious gestures that meant so much at the beginning of your romance, but continually wooing them can be key to keeping your relationship strong.
"It's very important to flirt with your partner," Tina B. Tessina, PhD, a psychotherapist and author of Dr. Romance's Guide to Finding Love Today, tells Bustle. "Flirting is a way of communicating without words. Couples need to develop flirtation techniques to keep the fun, intimacy, and humor alive in their relationship." Start off by paying attention to your body language when the two of you are together, which can have a surprisingly big impact on the intensity of your connection, Dr. Tessina says. Something as small as shifting so that you don't have an arm or a leg creating a barrier between you can help them feel more open to you. Then, it's all up to you. Now that you and your partner have been together for a while, you're at an advantage because you know exactly what kinds of things get them going, so you'll be able to flirt more effectively than ever.
Here are some old-fashioned flirting techniques your partner will love, according to experts.