7 Old-Fashioned Party Traditions We Should Bring Back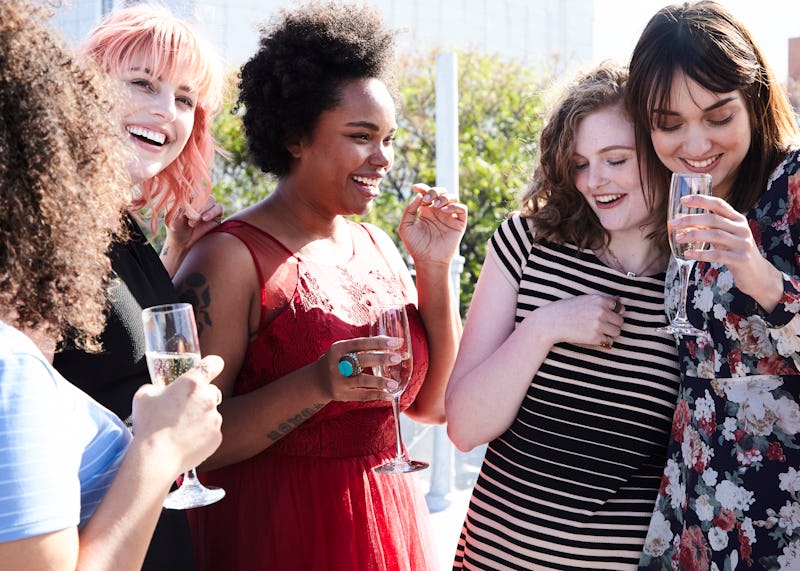 Hannah Burton/Bustle
Entertaining doesn't have to be reserved for special occasions or big-budget events. Even in an age where people are more connected than ever, there's still a special feeling when you gather a group of friends and making something of it. And if you're not sure where to start, looking at old-fashioned party traditions can help get you on the right track.
Throwing a party that includes some old-fashioned traditions doesn't mean you have to stick to old-fashioned themes or appear particularly out-of-sync with your normal social life. "Although it may look different than in years past, entertaining is still an important skill to master today," Bronwen Smith, owner and lead designer of B Floral Design & Production, tells Bustle. "Regardless of which generation you're from, it's always rewarding to host friends and create lasting memories." While it can always be fun to hang out at bars and restaurants, there's something special about hanging out at home, and feeling the particular joy of entertaining people.
Parties don't have to be high-stress either, they can be smaller-scale, too, and focused on connecting with the ones you love. "Entertaining at home brings us back to a simpler time, allows us to connect to tradition, and gives us that human connection that matters to us now more than ever," Anne Hyun, founder of Black Twine, based out of WeWork NYC, tell Bustle. A lot of it is about finding what kind of party works best for you.
Here are seven old-fashioned party traditions we should bring back, according to experts.