7 Questions That Can Reveal If Your Partner Will Ever Cheat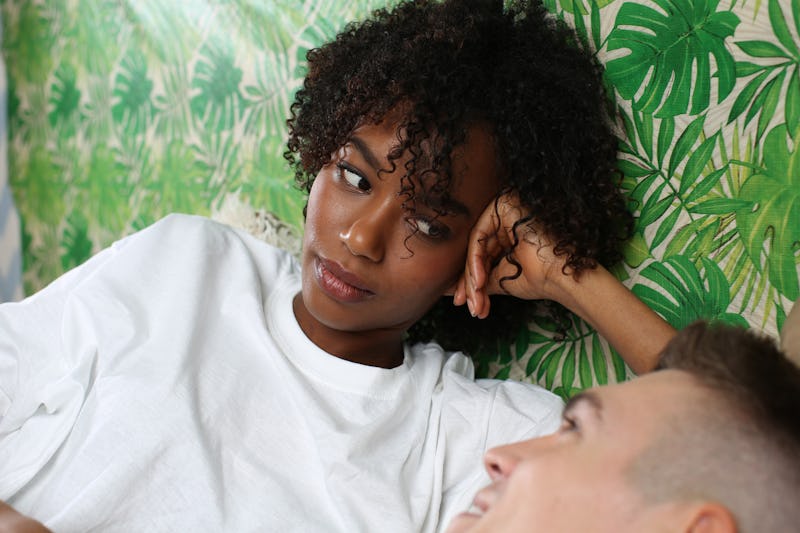 Ashley Batz/Bustle
Getting cheated on is a terrible experience, so it's not a bad thing to want to protect yourself. While knowing things like their zodiac sign may give you some hints on the likelihood of infidelity, all you need to really do is ask a few questions. According to experts, there are some questions you can ask your partner right now to get an idea of how likely they are to cheat.
"If you want to see how likely it is that your partner would cheat, you first need to be on the same page as to what cheating is exactly," Samantha Daniels, Dating Expert and Founder of Samantha's Table Matchmaking tells Bustle. That's why one of the most important questions you can ask your partner is, "What do you consider cheating?"
For instance, some people count innocent flirting outside the relationship as cheating, while others may not care as much. Some may think physical cheating is bad, while others think emotional cheating is way worse.
"Many people have different ideas of what constitutes cheating so it's important to ask this question because it can reveal your partner's idea of cheating," Daniels says. "Asking this question will inform you of your partner's relationship boundaries and then you can analyze what those boundaries mean to you."
Cheating can take you by surprise. But if you ask the following questions to your partner, you can have a better idea of where they stand on cheating and how likely it is they'd cheat.