7 Royal Wedding Halloween Costume Ideas For You & All Your Friends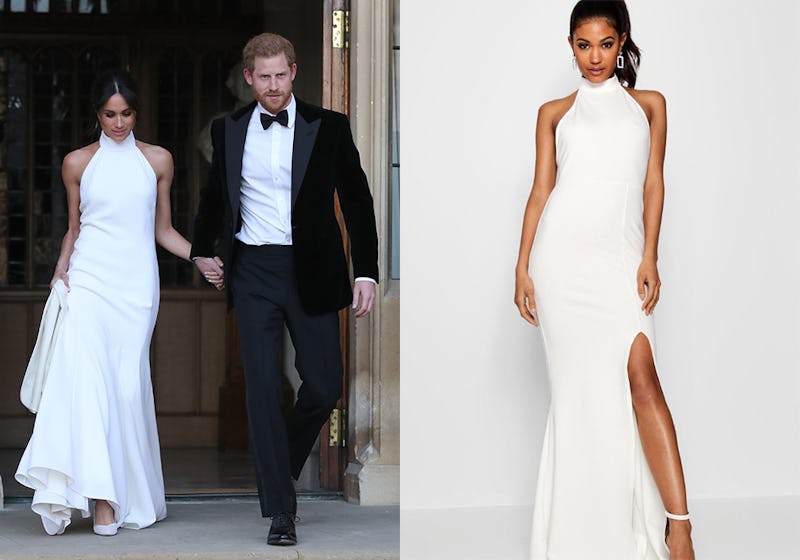 WPA Pool/Getty Images Entertainment/Getty Images; Boohoo
When it comes to picking a Halloween costume, one of the most fun things to do is pick a culturally relevant costume idea. And, when it comes to 2018, there's no costume more culturally relevant than one inspired by the royal wedding of Prince Harry and Meghan Markle, which took place in May 2018 in Windsor, UK. It was truly the biggest event of the year — if not of the past few years — and everyone paid attention to it at least a little bit. Of course, there will be lots of people dressed up as Meghan Markle and Prince Harry this year — so, to avoid being lost in the crowd, you can make your royal wedding-inspired costume a little more unique by making it a group costume with a bunch of your friends. If you want to get really creative, there are some great group royal wedding costume ideas to try out this Halloween.
The below group costume ideas will work for any group of friends, whether you have two other people, four other people, or even more than that. One big bonus is that most of these costumes use clothing that you can wear again, or that you already own — you don't have to buy Halloween costumes that you'll spend a lot on and then never wear again. Another bonus: they are all super Instagrammable.
Check out the below royal wedding costume ideas, then find a few friends who want to go in on it with you, and you guys can pick the perfect option. You can even combine a few of these for a really large group!