7 Apps That'll Help You Boost Your Self-Care Game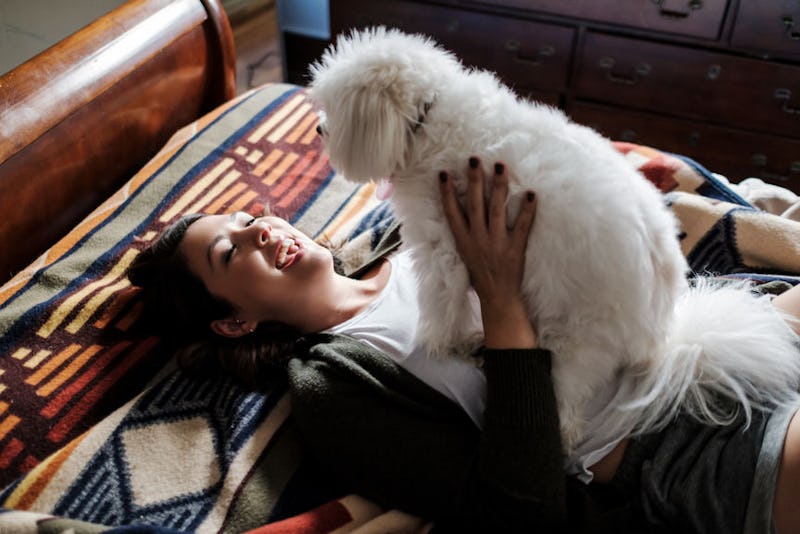 Suprijono Suharjoto/Stocksy
With 2019 here, self-care may be among the goals you have for the New Year, and rightfully so. After all, keeping yourself feeling healthy, mentally speaking, is important for your overall wellbeing. Luckily, self-care can mean many things: meditating, doing yoga, seeing a therapist regularly, running, or any other thing that makes you feel relaxed and a better version of you. However, you may not always have a chance to go for a run or time to see your therapist, so that's where technology comes in: Self-care apps can help you stay balanced in the New Year; you can literally have them on hand in your pocket via your phone.
"Self-care is a broad term that can include physical, emotional, cognitive, social, and spiritual aspects of your life," Joshua Klapow, Ph.D., clinical psychologist and host of The Kurre and Klapow Show, tells Bustle. "All are important, and all are associated with more positive experiences, longevity, and a better quality of life."
He says that the use of self-care apps can be a very fruitful and helpful way to bring emotional regulation and self-care to the forefront of your consciousness. "Much like the apps focused on monitoring and encouraging exercising and budgeting, these apps focus us in on our thought process, emotions, breathing, and stress levels — all of which have an enormous impact on our overall functioning," Dr. Klapow says. "It is important, however, to be extremely mindful that these applications are NOT substitutes for mental health care." He says they do not treat clinical conditions like depression, anxiety, and substance abuse, but are a great tool for anyone, whether you're being treated for the aforementioned conditions or not. "They are a great way to get more skilled at thinking, feeling, and engaging with the world in a healthier, more productive manner," he says.
Below, you'll find seven self-care apps that are perfect to try during this New Year.