9 Ways To Stay Connected If You & Your Partner Go To Sleep At Different Times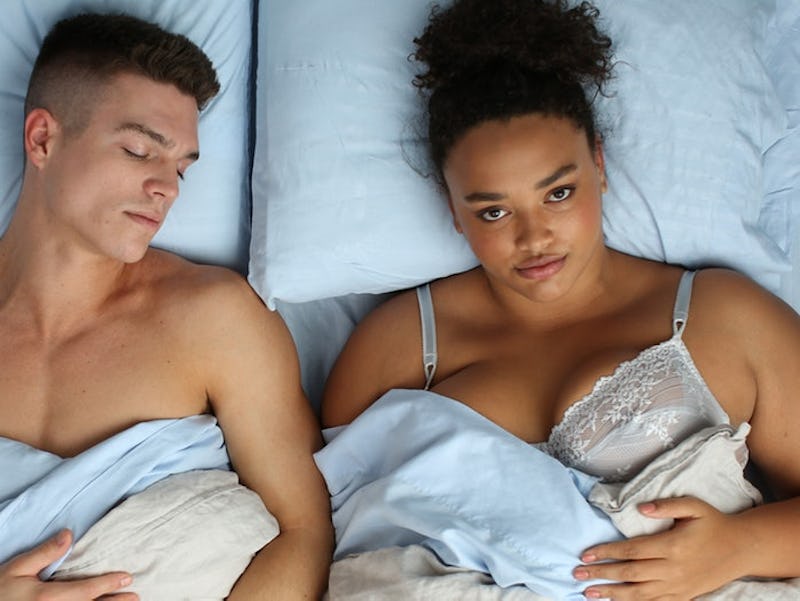 Ashley Batz/Bustle
Everything may be seemingly perfect in your relationship with your significant other except for one thing: You go to bed late and they go to bed early — or vice-versa — so where's the happy medium? Whether you and your partner have different bed times due to work schedules or insomnia, experts say there are ways to still stay connected with your partner, even if your sleep schedules are making you seem disconnected.
According to a recent study of 1,010 people in relationships aged 18 to 75 by The Sleep Judge, going to bed before a significant other is pretty common. The survey found that nearly 58 percent of people admitted they fell asleep at different times than their partner. While almost 62 percent of Gen Xers said they fell asleep at a different time than their significant other, 56 percent of millennials said the same thing.
If you're curious as to why couples' bedtimes vary, The Sleep Judge study looked into that, too. While some people said that either they or their partner takes longer to fall asleep than the other, some cited different work schedules or the fact that their partner uses their phone, computer, or tablet in bed.
"Some people are morning types, and some are night owls," Dr. Benjamin Smarr, National Institutes of Health postdoctoral fellow at UC Berkeley and Reverie sleep advisory board member, tells Bustle. So how can they sleep in the same bed on such different schedules?" He says that although this is a tricky situation, the best solution is if the couple agrees on some basic things in order to maximize the awake time they have together.
Below, experts weigh in on how to stay connected to your partner even if you two go to sleep at different times.