7 Signs You're Actually Drinking Too Much Water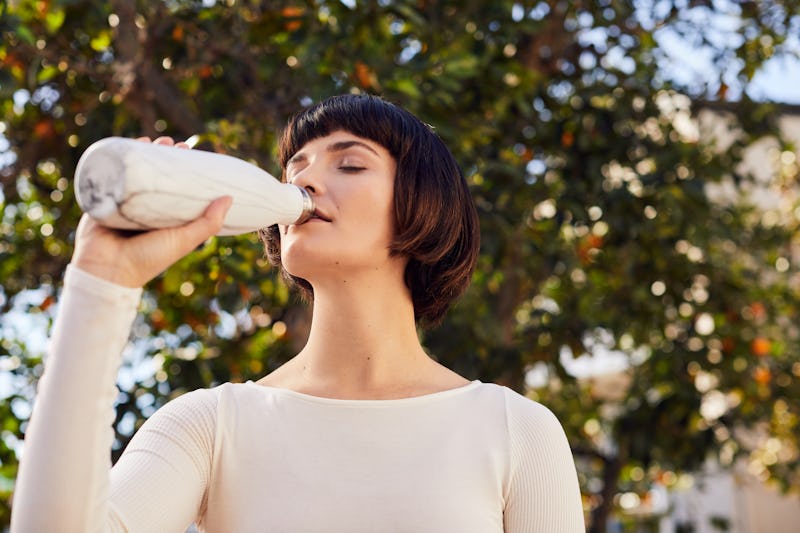 Goodboy Picture Company/E+/Getty Images
No matter what medical issue you're dealing with, the advice is usually to drink more water. In fact, a lot of health advice makes water sound like some magic elixir you can't have enough of. And water is absolutely necessary to survive. But what you're not often told is that you can have too much of a good thing, drinking water included.
"We're constantly being told the benefits of regularly drinking water, and more often than not, these benefits stand true," Morgan Statt, Health and Safety Investigator at ConsumerSafety.org, tells Bustle. "From boosting your immune system to clearing your skin, you'd be hard-pressed to find something water doesn't help with. But, unfortunately, it is possible to drink too much water."
Statt warns against drinking more than 27 to 33 fluid ounces (about three and a half to four cups) per hour. This could cause your blood sodium levels to drop dangerously low, which leads to a condition called hyponatremia. Symptoms include fatigue, vomiting, confusion, headaches, and sometimes death. While this condition is usually associated with elite athletes or hardcore exercise, it's also a possible side effect of medications like antidepressants, according to the National Kidney Foundation, or underlying health conditions. It's worth checking in with your doctor if you think you have any of those symptoms.
The effects of drinking too much water are usually not this severe, but they can be disruptive. Here are some signs that you could be drinking too much water or other fluids:
This article was originally published on