7 Things You NEED To Know To Help Your Relationship Survive Mercury Retrograde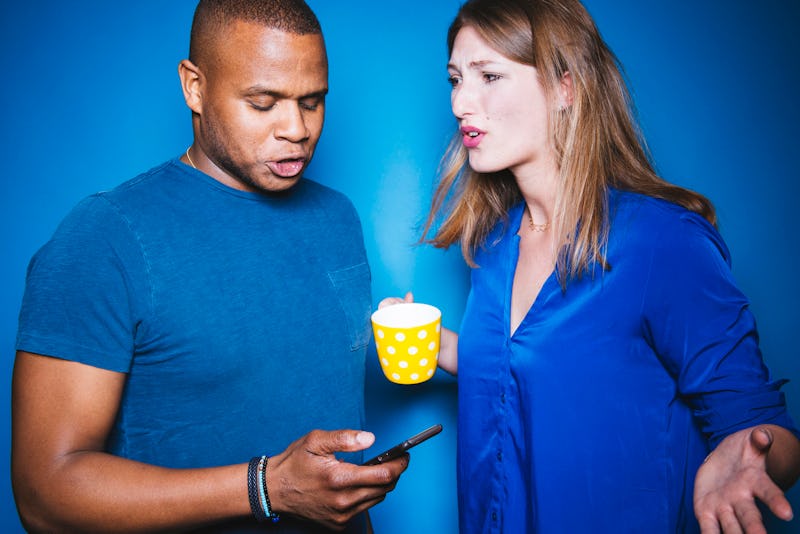 BDG Media, Inc.
When Mercury goes retrograde, the planet is basically speeding by the earth, so it's easy to feel like your life is spinning out of control during this time — your train comes 10 minutes late, the plant on your desk suddenly dies, and nobody tells you that you have spinach stuck in your two front teeth all day. But Mercury retrograde's effects on relationships can especially feel like the hardest test of the year. Spring's Mercury retrograde is from March 22 - April 15, 2018 and if you've felt like your romantic relationship has been more unbalanced than normal lately, you're not alone
"In astrology, Mercury is the planet that is associated with all forms of communication and movement," Linda Furiate, a consulting Astrologer, Healthy Habits Expert, Reiki I&II, Inspirational Guide, and the founder of Of Universal Mind, tells Bustle. So when Mercury is retrograde, you can expect communication to be off when it comes to your love life.
But if you believe that we live in a perfect universe, that can only mean that Mercury retrogrades happen for a specific reason — to call attention to the incredibly fast-paced way in which we speed through life. By throwing you through a loop, Mercury retrograde is essentially forcing you to slow down and regroup, in order to put you on a more purposeful course, astrologer and life coach Joshua MacGuire tells Bustle.
I'm pretty sure I'm already feeling its effects. This weekend, I went from being paranoid about being too clingy in my relationship, to crying about Call Me By Your Name for the fourth time, in basically a heartbeat. I'm totally off-kilter and I know it! But not to worry — I keep telling myself that everything is happening for a reason. But if that's not working for you, check out some of these survival tips for astrology experts and remind yourself that it'll be over soon.