7 Surprising Things You Can Do To Prevent Nightmares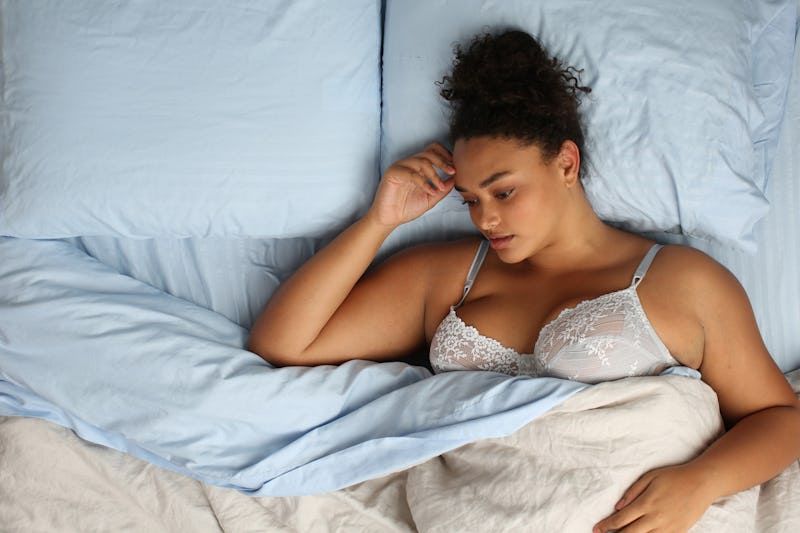 You may say a movie will "give you nightmares," and that's fine. But until you've actually been woken up at night in a cold sweat more than a handful of times, you won't know how stressful the threat of bad dreams actually is. Figuring out how to stop nightmares can seem pointless, but luckily there are a few tips and tricks you can use to keep them at bay.
Joel Schwartz, psychologist in Rolling Hills Estates, CA, tells Bustle that the DSM-V definition of a nightmare includes "dysphoric content" — imagery or themes that are frightening, sad, or stressful — that is remembered after waking up. Also, Dr. Schwartz adds, nightmares involve an effort to avoid the threats within the dream, and a jolting wakeup from later stages of sleep. Everyone has them. Some just happen to be more stressful than others.
Sleep is one of the subjects that still confounds scientists. "Sleep and dreaming are areas of the mind that are incredibly complicated, so studying them is not easy," Dr. Sal Raichbach, licensed clinic social worker (LCSW) at Ambrosia Treatment Center tells Bustle. Because of this murkiness, it ends up being up to the individual experiencing the symptoms to decide whether they need help. "There is no objective delineation between problematic and non-problematic nightmares. It is wholly up to the person experiencing them to determine if they are a problem," Dr. Schwartz explains.
Unfortunately, it's next-to impossible to stop having nightmares for good. But it's not hopeless to try to get them to dissipate. "While not all nightmares are preventable, there are definitely some things you can do to make their occurrence less likely," Chris Brantner, Certified Sleep Science Coach at SleepZoo.com, tells Bustle.
Here are seven unexpected things you can do to prevent nightmares, according to experts.