7 Things To Never Do If You Live In A Wildfire-Prone Area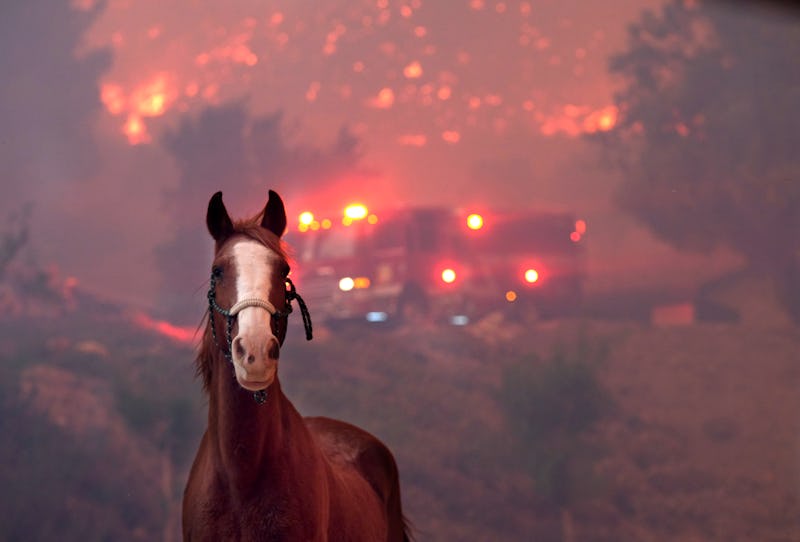 Matthew Simmons/Getty Images News/Getty Images
While most of the country is celebrating the arrival of the brisk bite of Fall, California is bracing itself as brush fires burn across the state and forced power outages impact people's everyday routines. So, for those living in or visiting the Golden State, it's important to know what you can do as an individual to prevent wildfires, as well as what you should never do if you're in a fire-prone area.
People who live in California are familiar with fire season: October to December when conditions are hot and dry. But you might not know that it's longer than it used to be. The California Department of Forestry & Fire Prevention reported that climate change is responsible for fire season increasing in length by 75 days.
To make matters worse, from January to October 2019 alone, California has experienced almost 5,000 fires. In 2018, the deadliest and most destructive wildfire season in California history, there were more than 7,500 fires. And according to the National Park Service, 85% of all wildfires are caused by humans. "Human-caused fires result from campfires left unattended, the burning of debris, equipment use and malfunctions, negligently discarded cigarettes, and intentional acts of arson," the National Park Service noted on its website.
Since moving to California seven years ago, I am hyper aware that unintentional acts can cause fires that quickly burn out of control. Things you don't have to think about in other areas, like the safest time of day to mow your lawn to reduce the risk of starting a fire, are always top of mind in California. I've seen wildfires burning in the hills from my front yard and experienced days where the sky rained nothing but ash.
If you live in California, or you're headed here on vacation, it's important to understand that there are things you should never do in a wildfire prone area, like toss a lit cigarette anywhere, and things you should do, like clear your yard of brush and other fire hazards. Here's what to know so you can do your part to prevent wildfires during fire season 2019.