7 Ways To Support Migrant Women & Girls On International Women's Day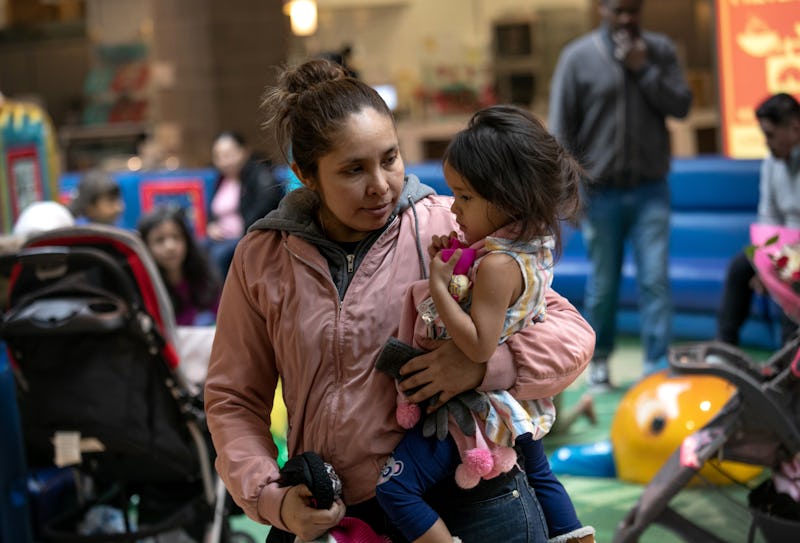 John Moore/Getty Images News/Getty Images
The month of March is all about celebrating women: it's Women's History Month, and Mar. 8 is also International Women's Day. This day is dedicated to shining a spotlight on women's rights, from what has been achieved so far to the women who have helped achieve it, and everything in between. But this isn't just a day to feel thankful for the strong women in your life or the ones who inspire you: it's also a day to consider the many women around the world who still need so much help and support. That includes migrant women and girls who desperately need assistance, and fortunately, there are some ways you can support migrant women and girls on International Women's Day (and, really, any day).
Migrant women and children all over the world need help, but the issue has hit far too close to home in the United States recently. Thanks to the zero tolerance policy put into place by the Trump administration, more than 2,000 children were separated from their parents — and that isn't even an exact number, as officials won't give precise statistics. According to the United Nations, there are an estimated one billion people around the world who are migrants, and almost half of them are women and girls.
While all migrants are vulnerable and at risk of being abused and exploited, female migrants face a particularly scary risk. According to a 2016 report by the United Nations Office on Drugs and Crime, women and girls make up 71 percent of all human trafficking victims. The lack of shelter, overcrowding, and chaos of being a migrant woman increases the risk of this type of sexual violence. There isn't anything they can do about abuse in most cases, either, because many of these women lack the resources, support, and knowledge to get help.
There are so many reasons to help these women and girls out in any way you can, and it's not something you should push aside. Here are a few ways you can support migrant females this year: