7 Ways Toxic Masculinity Hurts Our Sex Lives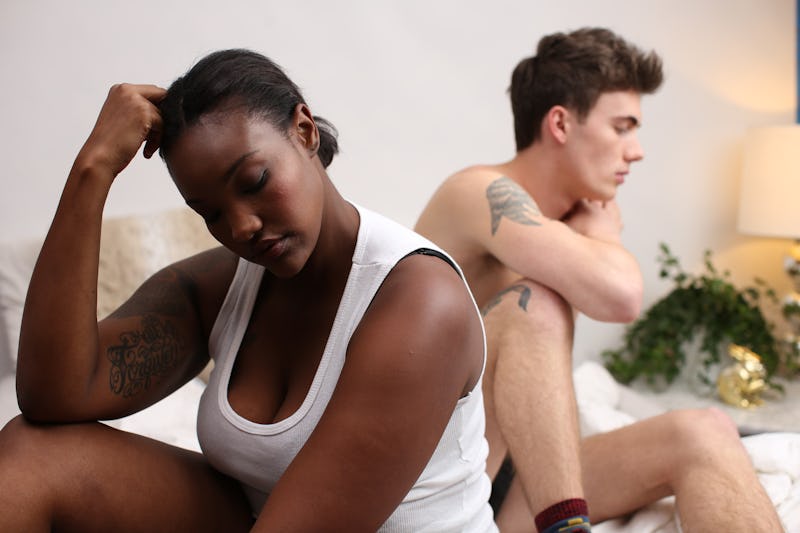 Ashley Batz for Bustle
You often hear about how standards of femininity hurt women's sex lives by discouraging them from expressing their sexuality or asserting their needs in the bedroom. But toxic standards of masculinity hurt men's sex lives — and everyone's — just as much. When people are held to gendered expectations in the bedroom, everyone misses out on being their authentic selves and connecting with their partners' authentic selves.
"Those of us who behave outside of our culture's gender norms are at risk of all kinds of damaging (and often dangerous) consequences, and these risks are heightened in the vulnerability of a sexually intimate situation," sex educator Anne Hodder tells Bustle. "Toxic masculine stereotypes dramatically limit the ways people of all genders can safely express their sexuality — especially POC, sex workers, transgender people, and gender non-conforming folx — and the fear of being judged, rejected, assaulted, or a victim of intimate partner violence as a result certainly does not help set the mood for a safe, mutually satisfying sexual experience. Toxic standards of masculinity rob masc-identifying people of the right to safely express themselves as they see fit and can create pressure to play a role, rather than simply exist as themselves. It's also important for partners of masc-identifying people to be conscious of ways they might be perpetuating these toxic standards in their own sex lives."
Here are just a few ways toxic masculinity hurts everyone's sex lives.