8 Starbucks-Inspired Halloween Costumes That'll Go Great With Your PSL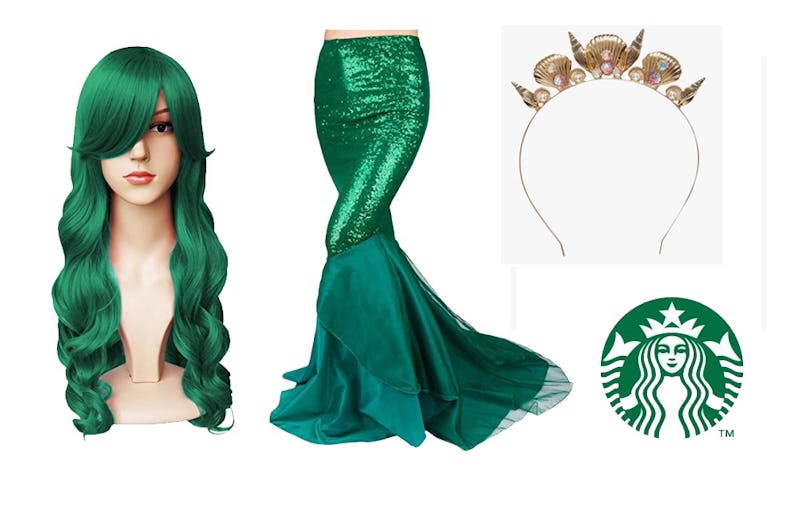 Amazon, Hot Topic, Starbucks
When you're obsessed with the wonderful world of Starbucks, the autumn season can be real treat. First, the almighty pumpkin spice latté makes a triumphant return. It's a pivotal moment that essentially marks the beginning of everyone's favorite season. And, to top things off, you can also brainstorm Starbucks-inspired costume ideas for Halloween. If this isn't the perfect excuse to show off your affection (or addiction) to the iconic brand, then I don't know what is.
The best part? You won't have to spend a pretty penny. Instead of buying an outfit that you'll never wear again, you can get away with basic clothing and inexpensive costume accessories. It's all about the right combination of pieces. Complete the look with a print-out of the Starbucks logo and you're all set. Basically, thanks to this list of Starbucks-inspired ideas, you'll have an easy Halloween costume in no time.
These ideas also work well as group Halloween costumes. For example, a Starbucks barista and a Frappuccino would be adorable for couples, dog owners and pups, or parents and kids. You and your squad can also dress up as different flavors of Frappuccinos, from strawberry to matcha green tea. To add even more details to your costume, recreate the drink label markings along the side of the cup.
Check out these eight creative Halloween costumes that will make your Starbucks-loving heart skip a beat.
1. Starbucks Barista
Arizona Short-Sleeve Polo Shirt in Black, $24, JCPenney | Kelly Green Adjustable Bib Apron, $7.99, Amazon | Baseball Cap by Imagin8 in Black, $3.29, Michaels | Starbucks Coffee Iron On Embroidered Patch, $3.49, ThinkPatch on Etsy
The Starbucks employee uniform is extremely easy to recreate. To do it, wear a green apron over a black polo or t-shirt. Wear a black hat and adorn your apron with Starbucks pins, patches, or printouts. Done and done.
2. Starbucks Frappuccino
Gildan Short Sleeve Adult T-Shirt in Brown, $3.99, Michaels | Feather Boa by Creatology in White, $9.50, Michaels | Scunci No Slip Most Comfortable Headband, $2.99, Target
If you basically live off Starbucks Frappucinos, this costume is for you. First, you will need a brown shirt or dress and a Starbucks logo printout. You'll also need a white feather boa from the craft store.
The straw headband is easy to make. Paint a paper towel tube green and cut two horizontal slits along the bottom. Slip a headband through the tube and hot glue everything in place.
3. Starbucks Hot Coffee
Off The Shoulder Sweater Dress, $28.99, Charlotte Russe
There's nothing like a hot cup of Starbucks coffee. And luckily, it's easy to use it as costume inspiration. You'll need a white sweater, dress, or shirt. Wrap a strip of cardboard or brown paper around your waist and tape in place. Finally, print out the Starbucks logo and tape it to the cardboard.
4. Starbucks Strawberry Frappucino
Plus Size Asymmetrical Bodycon Dress in Mauve, $27.95, Debshops | Feather Boa by Creatology in White, $9.50, Michaels
Who says a Starbucks costume has to revolve around caffeine? If you're all about strawberry Frappuccinos, wear a pink dress or shirt. Accessorize with a white feather boa, Starbucks logo, and straw headband.
5. Matcha Green Tea Frappucino
Off-The-Shoulder Cable Knit Sweater in Marled Green, $40.80, Abercrombie & Fitch | Feather Boa by Creatology in White, $9.50, Michaels
On that same note, you can also use the matcha green tea Frappuccino as inspiration. You'll need a light green dress or shirt, white feather boa, Starbucks logo, and straw headband.
6. Starbucks Unicorn Frappucino
Tie Dye Flo Blue Pink T-Shirt, $11.20, Amazon | Feather Boa by Creatology in White, $9.50, Michaels
The unicorn Frappuccino might have come and gone, but that doesn't mean you can't use it as inspiration. To dress up as one, wear a pink and blue tie dye shirt. Pair it with the same Frappucino accessories mentioned above: white feather boa, Starbucks logo, and straw headband.
7. Starbucks Red Holiday Cup
Plus Size Raw-Cut Sweater, $17.90, Forever 21
If you're all about the holiday season and winter weather, Starbucks' red cups probably make your heart skip a beat. So, why not channel that love by dressing up as one? You'll need a red sweater and Starbucks logo printout. For a coffee cup "lid", wear a white hat.
8. Starbucks Siren
Another Me Wig Women's Long Big Wavy Hair in Forest Green, $17.99, Amazon | Women's SONOMA Goods for Life Long Layering Tank in White, $13, Kohls | Mermaid Seashell Crown, $12.90, Hot Topic | FEESHOW Women's Mermaid Tail Long Skirt, $23.95, Amazon
It's safe to say that there are few logos more iconic than the Starbucks siren. To recreate her look, wear a vibrant green wig with a matching skirt and a white top. A flowing green dress works, too.
Finally, print out the Starbucks logo, tape it to your clothing, and wear a sparkling mermaid-inspired seashell crown. You can even paint the crown green, if you'd like.