How To Make A Starbucks Drink Costume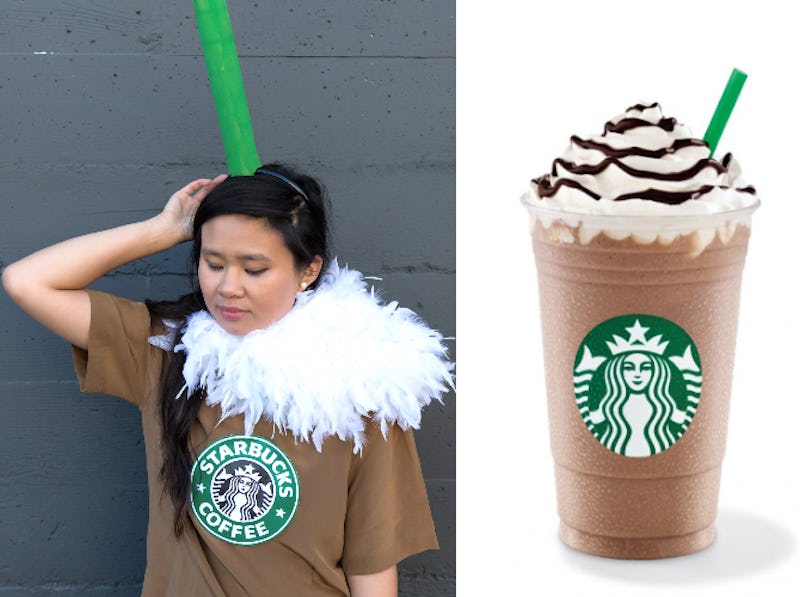 It might not be the spookiest thing you'll see all season, but I can't think of anything more fitting for Halloween than a Starbucks Halloween costume. Think about it — October seems to be the prime time for coffee. While it certainly has a cult following all year round, there's something about the fall that makes us coffee lovers gush about it even more. And if you're a caffeine addict like myself, you'll do anything to honor its greatness. I'm talking about everything from using coffee beauty products to rocking caffeine-inspired fashion. And with Halloween right around the corner, I can't forget about costumes.
That's why I couldn't help but show my fellow Bustlers how to whip up an easy Starbucks frappe outfit, just in time for Oct. 31. Regardless of your preferred coffee drink, shop, or flavor, you can't deny the super high cuteness level of this outfit. I mean, that "straw" headband and "whipped cream" boa? Too good.
Whether you're on Taylor's list of Starbucks lovers or just like a good cup of joe, this project is a cheap and easy way to express your caffeinated adoration. It's also a great last-minute costume when you suddenly realize Halloween is a few days away. Even the most novice crafters can take this on one — I promise. I totally support taking a shot of espresso to jump start your craftiness. Caffeine, after all, seems to be the answer to all of life's problems.
Supplies:
White feather or fur boa
Brown shirt or dress
Printed Starbucks logo
Paper towel cardboard tube
Green acrylic paint
Foam brush
Scissors
Thin plastic headband
Hot glue gun
You can print out the Starbucks logo right at home. All you need is regular white paper, color ink, and a printer. Your best bet is to create a Microsoft Word Document featuring the logo. Simply size it to your preference, and print out.
Directions:
1. Cut a horizontal slit on one side of the cardboard tube, about 1/2 inch from the bottom. Repeat on the other side of tube, directly across from the first slit.
2. Using the foam brush, paint the entire tube green. Let it dry completely before handling.
Here's a tip: Instead of laying down the tube covered in wet paint, stand it upright on scrap paper. Look ma, no hands!
3. Slip the headband through the slits. Your straw headband is now complete.
If you'd like, try it on to make sure everything fits well. Just make sure to take it off if you decide to get the mail.
4. Cut out the Starbucks logo.
5. Hot glue the logo to the front of the brown dress or shirt.
When you're ready to transform into a glorious Starbucks frappe, wrap the white boa around your neck like a scarf. The best part about this outfit is that it will keep you warm on those chilly October nights. I call that a win-win.
Looking for more great coffee ideas? Check out Bustle on YouTube!
Images: Starbucks.com.au; Tutorial: Kirsten Nunez; Street Style: Nick Wolf