8 Hacks To Try If Blue Light Is Stressing Out Your Eyes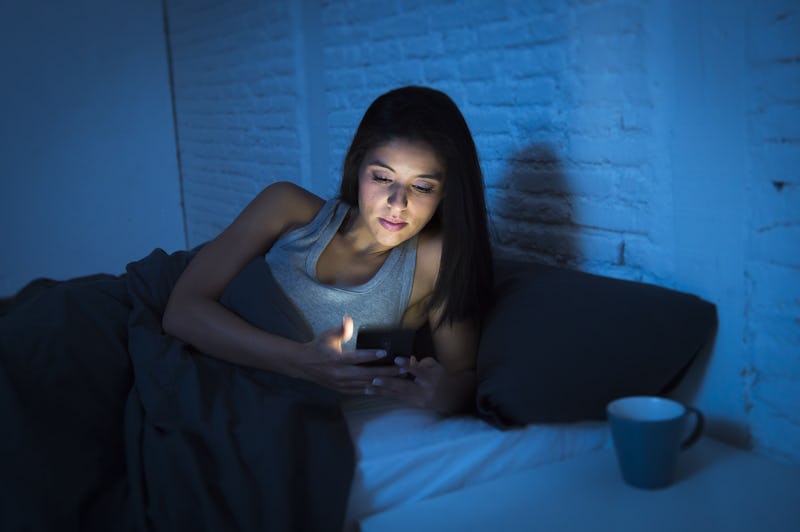 Shutterstock
The amount of time you spend staring at your phone or computer screen can feel almost impossible to quantify. In 2019, phones have become virtual extensions of people's hands, which is why it's so important to pay attention to the risks of all that screen time, too. If you're one of the millions of people across the world who spend a lot of time on your phone, then it's crucial that you find ways to reduce your blue light exposure along the way.
Naturally, concerns around blue light exposure have risen as technology becomes more ubiquitous — to the point that California has declared Oct. 10 as Blue Light Awareness Day. With the announcement came a new state Senate resolution from California, which acknowledges the many health risks of blue light exposure from digital screens, and encourages continued awareness, prevention, and research around the topic.
California State Senator Dr. Richard Pan is working with Eyesafe, a company that creates technology to help keep people safe from blue light exposure, to raise awareness and encourage other states to do the same. And to help mark Blue Light Awareness Day, Eyesafe released a new handbook that explains the risks that come along with blue light exposure and what we should be doing to mitigate them. InvisibleShield, a tech company that sells phone screen protectors, is also backing these efforts. You can read the handbook in full here.
As Eyesafe CEO Justin Barrett explains, the issue is becoming more and more relevant. "The trend on screen time use just keeps rising," he tells Bustle. "We're above 11 hours per day of screen time in 2019." So, here are eight ways you can work toward reducing your exposure to blue light on a daily basis: