Experts Say These 8 "Weird" Cold Remedies Actually Work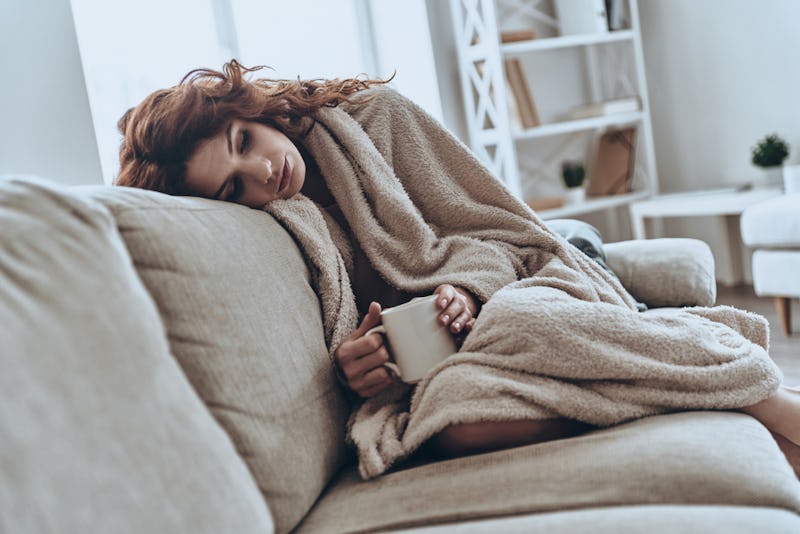 g-stockstudio/Shutterstock
When you have a cold, it's only possible to think about two things: how bad you feel, and how soon you'll get better. And really, with all the sneezing, coughing, and congestion going on, how could you possibly focus on anything else? It happens often enough to make you look for effective cold remedies, just to find some relief.
It's important to keep in mind, though, that "because colds are viruses, they cannot be treated with antibiotics," Dr. Christopher Dietz, DO, of MedExpress Urgent Care, tells Bustle. Typically, colds last about two weeks, he says, after peaking in the first few days. But you can help your body heal along the way with old-fashioned rest and hydration.
You can also take over-the-counter medications to help ease aches and reduce fever. "It's also not a bad idea to keep a saline spray or nasal rinse nearby to help with sinus pressure and congestion," Dr. Dietz says. "If you have a sore throat, consider gargling warm salt water."
After doing the basics, you may feel a little bit better. But there are also a few "weirder" cold remedies you might want to add into the mix. These include little tricks to boost your immune system, as well as things that can help your body fight off the infection. Read on below for a few interesting cold remedies, that experts say may help provide relief.