9 Creepy Things People Have Said After Allegedly Being Abducted By Aliens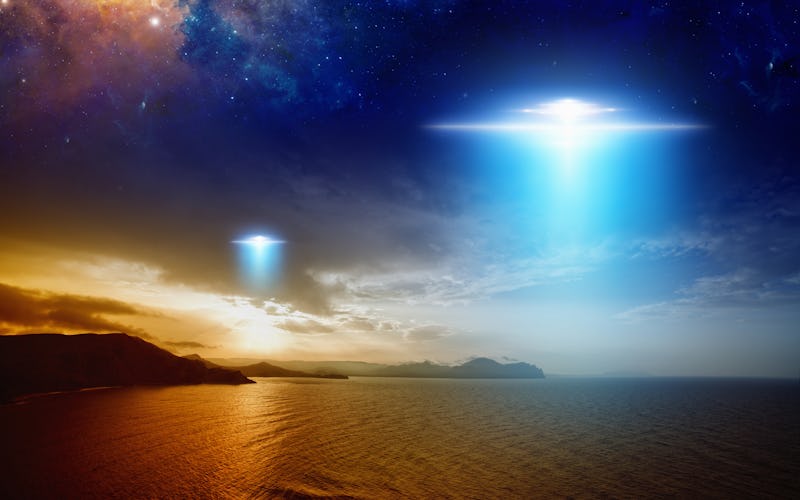 IgorZh/Shutterstock
I'll be honest: A lot of the time, I listen to the things people say after allegedly being abducted by aliens, and I think, "Yeah, right." To me, the stories are just so outlandish — and with so little hard evidence to back them up — that I have a hard time believing them. That said, though, the stories often are chilling to read or listen to… and who knows? Maybe I'm a skeptic purely because I've never seen anything myself that suggests that aliens might be among us. I might be wrong, of course. Anything is possible.
Solid data on exactly how many people believe in aliens is a little tough to come by; the most recent reputable survey I've found is a Gallup poll from 2005 which found that 24 percent of Americans believe "that extra-terrestrial beings have visited Earth at some time in the past." (For the curious, another 24 percent do not believe it, while 51 percent remain undecided.) A YouGov poll from 2015 found that among Americans, 54 percent do believe in extra-terrestrial intelligent life; however, although YouGov believe their polls are some of the most accurate out there, the market research company has also been criticized for not being representative of the population as a whole as well. So, y'know, do with that what you will.
In any event, though, it's certainly possible to believe in the possibility of alien life without necessarily believing in alien abductions — but for what it's worth, although I'm a skeptic, I also don't think the proliferation of alleged alien abduction stories is as simple as people just making stuff up. I don't doubt that in the wide majority of cases, people believe they experienced something; however, I think there are loads of other reasonable, rational, earthly explanations for these kinds of incidents we should try to rule out before entertaining the idea that it's aliens.
Either way, though, it's true that the universe is such a vast place that it seems unlikely that there's no intelligent life in it other than ourselves. Surely there's got to be something out there beyond our solar system, right? These folks definitely believe there is — and according to their accounts, it's closer to us than some of us might like to think.
Check out the entire 'What's Up, Boo?' series and other videos on Facebook and the Bustle app across Apple TV, Roku, and Amazon Fire TV.