How To Throw A Bookish Holiday Party That Isn't 'The Great Gatsby' Themed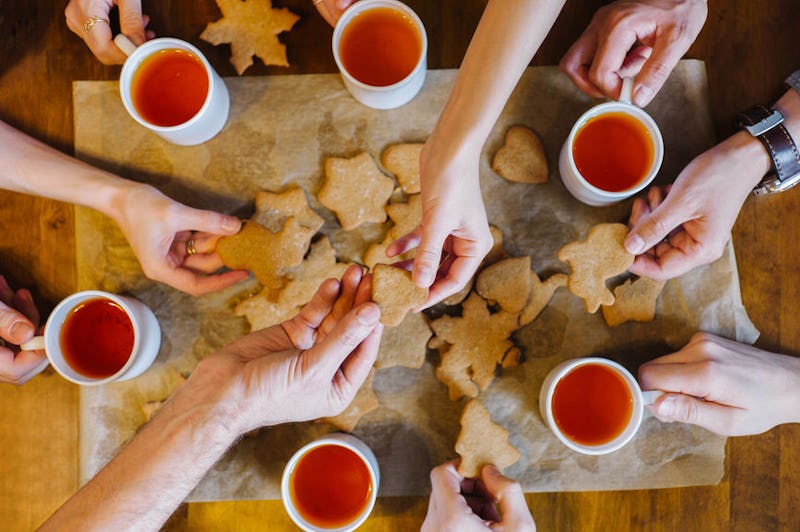 Duet Postscriptum/Stocksy
If there's one thing that book-lovers are especially not-so-great at (everybody's got something) it's throwing parties — seconded only by, if you must know, attending parties. After all, I'd guess that most of us spent a chunk of our prime partying years (aka: college) hidden behind stacks of books instead — or only wishing that we were. But even the most hermetic of book-lovers will be able to get behind these book-inspired party themes, just in time for the holiday social season to kick into high gear. Nothing says "party all night long" to a book lover like a party inspired by books and the people who wrote them. Especially if that party is inspired by Christmas in Hogwarts' Great Hall.
Now, if a story-themed shindig is sounding just a little too "third grade at PS14", think again. Sure, if you're imagining character tablecloths and matching paper plates route, the whole thing seems juvenile. But to throw a truly spectacular book-themed holiday party, you have to commit. I'm talking Kris Jenner's Great Gatsby-themed 60th birthday party committed — on a humbler budget, of course. (Speaking of which, throw your own Gatsby party with some of the suggestions below.)
So break out the books and bring on the bubbly, as you check out these 10 bookish themes to inspire your next holiday party.