Here Are All The Places You Can Get FREE Burgers On National Cheeseburger Day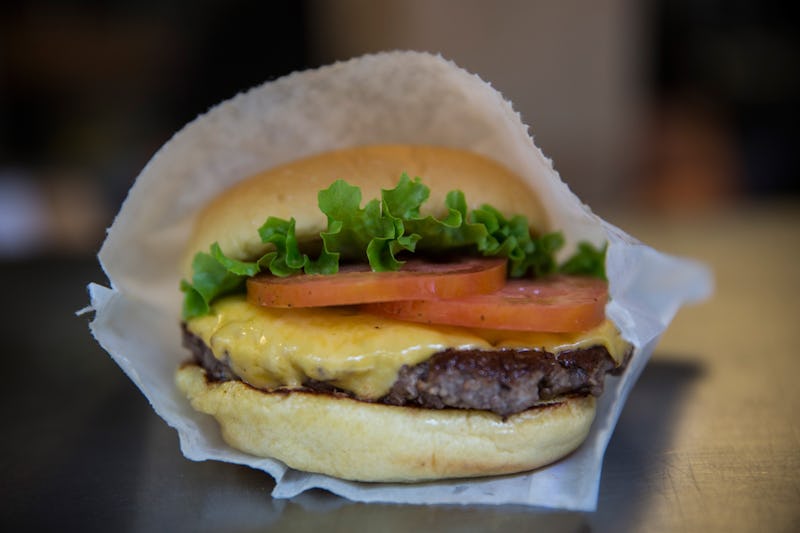 Andrew Burton/Getty Images News/Getty Images
National Cheeseburger Day is September 18, and obviously the best way to celebrate the holiday is to eat a lot of cheeseburgers. Duh. That said, you'll want to know about the best National Cheeseburger Day 2018 deals and freebies, because everyone knows that food tastes better when it's free. (OK, it might not be scientifically proven, but it's definitely psychologically proven.) Tons of local restaurants and national chains are offering free cheeseburgers or discounted cheeseburgers in honor of the holiday. Here I've put together a list of a few places that are offering epic deals — the kind of deals that don't stick around and that you'll want to enjoy immediately.
Pro tip, schedule your next friend dinner on September 18 and head to one of the listed burger chains. With a large group, you'll be able to take full advantage of the buy one get one deals, and not only will you be able to have a massive feast for way less, but you'll be able to get some fun freebies and extras that you might not typically order.
However you choose to celebrate National Cheeseburger Day, make sure you take a moment to appreciate the cheesy grilled goodness that's become a omnipresent staple of American cuisine. A good cheeseburger never lets you down, so celebrate the art of the burger by indulging in one, or two, or three.