9 Spooky Wine & Cheese Pairings To Help You Celebrate Halloween In The Fanciest Way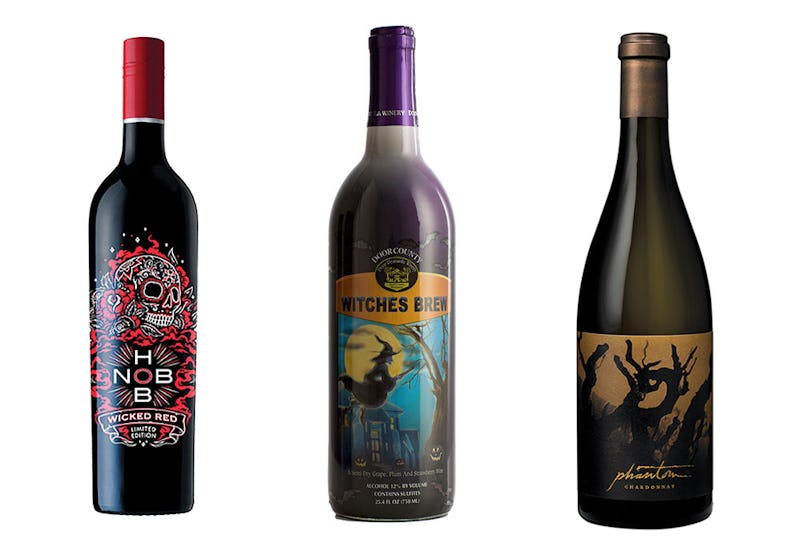 Total Wine, Door Peninsula Winery, Phantom Wine
We all know that Halloween is the best time to enjoy your favorite sweets and treats. But when you're all about that wine-and-cheese life, it also means that you can spoil yourself a little more than usual. I mean, there are so many amazing spooky wine and cheese pairings to choose from. It's enough to make any adult feel like a kid in the candy store. (Or is that just me?)
From the dark names to the horror-inspired artwork, spooky wines emphasize the moody and mysterious vibes of Halloween. Plus, there's nothing better than curling up on a chilly autumn night with a glass of wine and a classic Halloween movie. Add a plate (or two) of cheese and you're all set for one fancy night.
Personally, I love to enjoy wine and cheese pairings at home when I need a break from real life. However, if you're planning on attending a Halloween potluck party or dinner, consider bringing one of these spooky wine and cheese pairings. It can be a life saver if you don't have time to make Halloween candy from scratch. At the same time, it's a step up from a bag of candies from the grocery store.
By enjoying spooky wines that pair well with cheese, you'll be all a luxurious celebration on Halloween night. Here are delicious nine ideas to get you started.
1. Aged Gouda And Vampire Cabernet Sauvignon
Vampire Cabernet Sauvignon, $14.95, Vampire Wines
The nuttiness of aged gouda will complement a full-bodied wine like Vampire Cabernet Sauvignon. It features rich black currant and black cherry flavors, topped off with hints of ripe plum, mocha, cocoa.
Needless to say, this blood-red beverage stands up its name.
2. Goat Cheese And Bogle Phantom Chardonnay
Bogle Phantom Chardonnay, $19.99, Total Wine
If you love the tangy flavor of goat cheese, choose a chardonnay like Bogle Phantom Chardonnay. It's rich, creamy, and tastes like a combination of apple pie, vanilla, and caramel. Basically, it's autumn in a bottle.
Chardonnay brings out the creaminess of goat cheese, making this pairing a delicious duo.
3. Cheddar And Witches Brew
Witches Brew, $10.99, Door Peninsula Winery
Cheddar is sharp and intense, so it pairs best with fruity wines like Witches Brew. This semi-dry wine is a blend of Syrah, plum, and strawberry. When paired with cheddar, the fruit-forward richness of Witches Brew will complete every bite.
4. Gruyere And 7 Deadly Zins
7 Deadly Zins, $14.99, Total Wine
Gruyere is known for its earthy and slightly salty flavor profile. It also complements the sweet notes of 7 Deadly Zins, a wine that offers a blend of molasses, raspberry jam, and cinnamon.
Plus, with a punny name like "7 deadly zins," how can you resist?
5. Gouda And The Velvet Devil Merlot
Charles Smith The Velvet Devil Merlot, $10.99, Total Wine
Gouda is extremely sharp and nutty, so it's best to enjoy it with a full-bodied wine like The Velvet Devil Merlot. From the opulent dark fruit to the cedar finish, this merlot is smooth and rich, just like velvet.
When The Velvet Devil Merlot is paired with gouda, the strong flavors will mellow out.
6. Brie And Fangria
Fangria Sangria Espanola, $7.49, More Wines
If you're not a fan of earthy cheese, go for brie. It offers a mild and buttery flavor that tastes amazing with Fangria, a refreshing red wine that proves that sangria isn't just for summertime. You can enjoy Fangria straight or mixed with fruit.
7. Aged Cheddar And Unruly Dark Wine
Unruly Dark Red Wine, $12.95, BevMo!
To balance out the intensity of aged cheddar, pair it with a full-bodied wine like Unruly Dark Red Wine. It's chocolately, dark, and full of bold flavors like black cherry, blackberry, and spice notes.
8. Taleggio And Witching Hour Red Blend
Witching Hour Red Blend, $6.99, Total Wine
Taleggio might be on the stinky side, but if you're a fan of brie, you'll love this mild yet tangy cheese. As a washed-rind cheese, it works well with medium-bodied red blends like Witching Hour. This spooky wine offers rich flavors of dark cherry and vanilla.
Not ready for taleggio? Pair Witching Hour with cheddar or young gouda.
9. Smoked Cheese And Hob Nob Wicked Wine
Hob Nob Wicked Wine, $8.99, Total Wine
If you're all about smoked cheese, grab a bottle of Hob Nob Wicked Wine. The medium-bodied red blend of roasted coffee, toasted hazelnut, and orange zest will bring out the best of smoked cheese.
When it comes to smoked options, you have a lot to choose from. Tasty options include smoked gouda, cheddar, and mozzarella.