9 Subtle Differences Between Being A Narcissist Vs. Just Being Self-Centered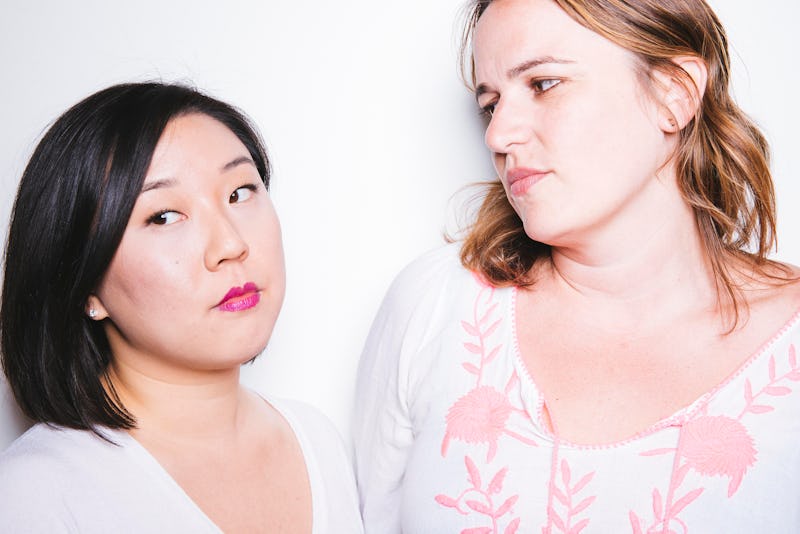 BDG Media, Inc.
Most people throw around the word narcissist loosely, using it to describe someone who is seemingly obsessed with themselves. But Narcissistic Personality Disorder has a distinct set of traits that differ from just being self absorbed. There are a number of subtle differences between being a narcissist and being just self-centered, and recognizing the difference between an actual personality disorder and simply just being vain can better help you navigate your relationship with those who seem self-involved.
"The term narcissist is used often to describe a wide variety of people that we find difficult or offensive, but like other mental health concepts that make their way into the language of popular culture, it is widely and frequently misused and/or misunderstood," Dr. Lindsay Henderson, PsyD, a psychologist who treats patients virtually via telehealth app LiveHealth Online tells Bustle. "True pathological narcissism is quite rare, affects less than 1 percent of the population, and can only be diagnosed by a qualified clinician."
According to Henderson, some experts think that narcissism exists on a spectrum, and it is a trait that many of us exhibit to some degree. On the healthy end of the spectrum, narcissism can be thought of as the ability to see ourselves as a bit special, and this type of confidence and assertiveness allows us to take risks and put ourselves out there to accept challenges. Being self-centered can fall somewhere within this spectrum as well. On the more problematic and pathological end of the spectrum is when arrogance, grandiosity, and entitlement interfere with daily functioning and the ability to maintain relationships.
That being said, not everyone who is self-centered is necessarily a narcissist. Here are nine subtle differences between being a narcissist and just being self-centered.