9 Thoughts That Can Prevent You From Confronting Depression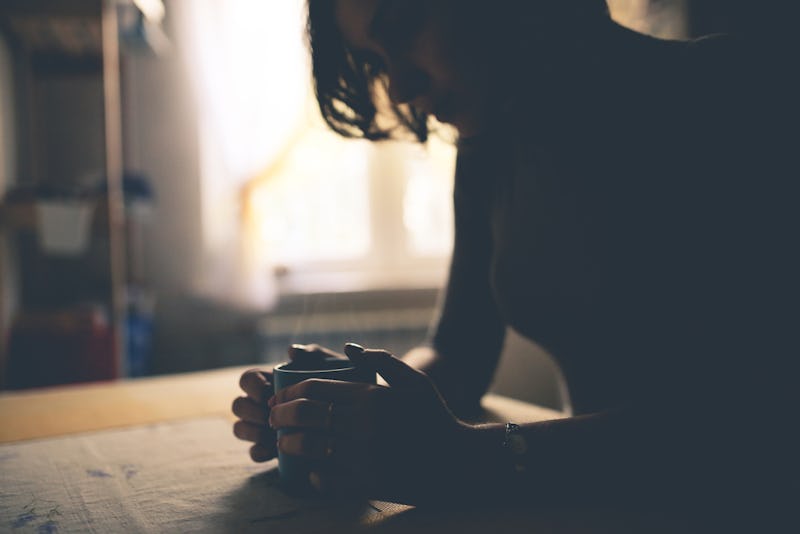 Natalia Lebedinskaia/Shutterstock
One of the many difficult things about mental illnesses is that an illness can construct a narrative in your head that isn't necessarily true. With depression, a combination of stigma and difficult-to-pinpoint symptoms may make diagnosis difficult. But the symptoms of depression are well-documented, and the first step is paying attention.
Since depression can alter your thoughts, it can be hard to differentiate when the illness is talking, versus when you are "When we are depressed we are viewing the world through a lens that isn't congruent with our external reality, but during a depressive episode, our internal reality changes so it seems like things can be hopeless which often leads us to feel helpless," Travis McNulty, LMHC, GAL, of McNulty Counseling & Wellness, tells Bustle. " [...] Usually depression manifests its form in a cycle of negative thoughts, negative emotions, and negative behaviors that further perpetuate one another." These negative influences can actually start to convince you that you aren't dealing with depression.
Some of these self-doubting thoughts may begin to dissipate when you acknowledge that depression is a serious diagnosis, and that you deserve help for the things you're struggling with. Finding a mental health professional you can trust may help get you there even sooner.
Here are nine thoughts that can mask depression for what it is, according to experts.