9 Wedding Cake Alternatives, If You Want Something Non-Traditional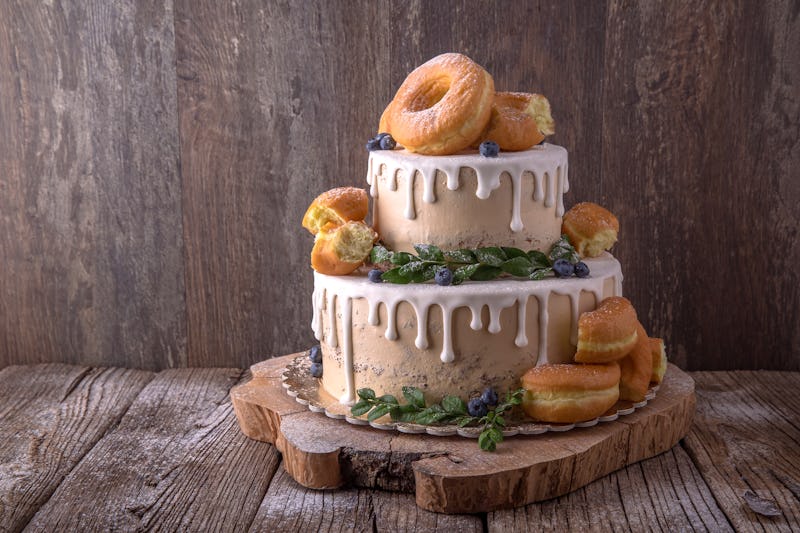 Shutterstock
The wedding cake is always a must-see at any reception. It can definitely say a lot about the couple and their personality. When it comes to your wedding, you can go traditional or be as creative as you like. Nowadays, you don't even need a wedding cake at all. There are a lot of great wedding cake alternatives you should consider, if you want something non-traditional.
"I think more and more, couples are looking to break away from wedding traditions in general," Sarah Carroll, San Francisco-based wedding planner, tells Bustle. Traditionally, the cutting of the cake ceremony represents the couple's new life together and acts as the first thing they do as a married couple. While it's a fun tradition, it's not a necessity.
Besides, wedding cakes can get pretty expensive. According to The Knot, the average couple will spend around $540 on their cake. "For some, it's more cost effective to look for alternatives like offering other desserts. For others, it's more fun to offer an alternative that feels more personal," Carroll says.
For instance, Kate Holowchik, head pastry chef at Ledger tells Bustle that people are getting more "progressive" with their flavor choices and ideas for wedding desserts. They're also looking for "smaller formats" like cookies or cupcakes, which are a lot less wasteful than a large cake.
"In consultations, people are no longer deciding between chocolate and vanilla, and what their parents would want or expect," Holowchik says. "Instead, they're looking for more custom stuff, making the dessert about the couple and something that provokes memories. They're realizing that the 'wedding cake' can be more about themselves than their guests."
So here are some wedding cake alternatives, if you want something non-traditional.