9 Women's March Shirts To Buy Before This Weekend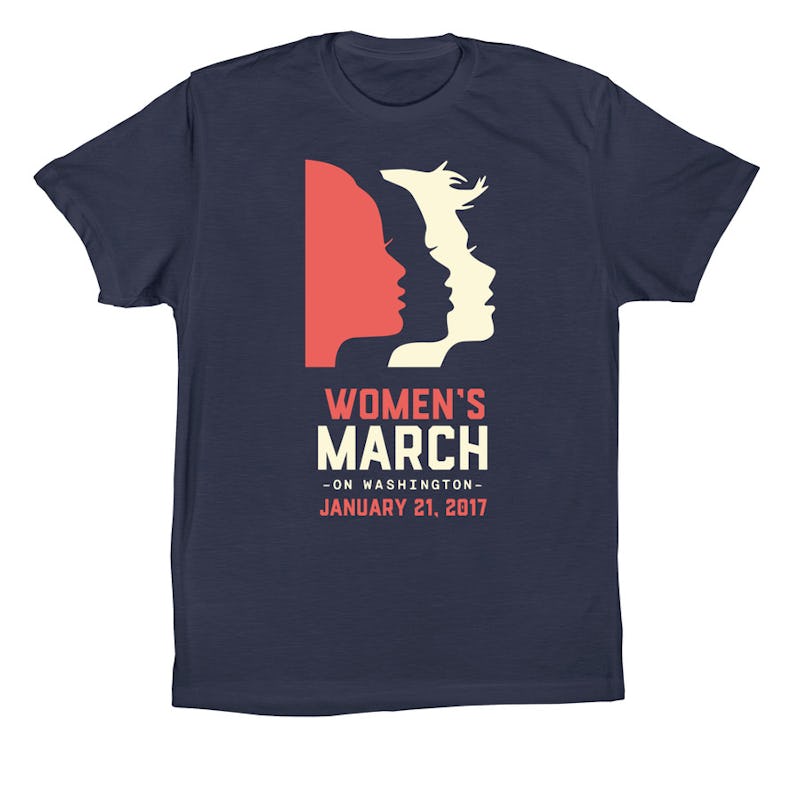 It's pretty much impossible to scroll through social media right now without seeing posts about the Women's March on Washington, which is quickly approaching. If you're planning to go to Washington or participating in a different city, chances are you're looking for a Women's March shirt or other merchandise to show your solidarity with those in the capital, even if you can't be there IRL.
Thankfully, you're in luck. Not only does the Women's March have official merchandise for sale, but there are a whole host of other places you can pick up themed shirts and other clothes. Although you'll probably have a hard time finding a shirt to order online that will ship before the march this Saturday, Jan. 21, it's worth placing an order now so that you'll always have a memento of the occasion. If you're planning to go to a march in D.C. or another city, there will also be vendors there selling both official and unofficial merchandise. Trust me — if you're looking for a shirt, you should be able to find one.
Although the official shirts feature the beautiful graphic Women's March logo, there's also a bunch of other shirts with interesting graphics and empowering messages.
Here are nine of my favorites.
Women's March On Washington Shirt, $12, Amazon
This official shirt comes in four different styles, and I'm a fan of the red, white and blue color scheme.
Nasty Women March Shirt, $20, Tee Shirt Palace
This shirt brings to mind one of Donald Trump's best known insults of Hillary Clinton during the campaign, and it's cool that people are taking ownership of the phrase.
Stronger Together Tee, $20, Tee Spring
I love the cool graphic back of this "Stronger Together" tee.
Women's March on Washington Color Power T-Shirt, $32, The Outrage
I love how powerful this t-shirt is, and it comes in a variety of colors.
The Future is Female Long-Sleeve Tee, $42, The Outrage
If you're looking for something long-sleeved, this is a good option.
Million Women March T-Shirt, $26, Red Bubble
I love the graphic on this shirt from the Chicago march.
Women's March Peace Sign Shirt, $15, Amazon
The peace sign on this shirt sends the right message for the march.
Raise Your Voice Tee, $25, Tee Spring
This long-sleeved black tee is a great, kind of unexpected option.
Don't Normalize Misogyny Tee, $24, Etsy
I love the message of this T-shirt option.
For more Women's March merch, click here.